Delilah Jackson, a treasury and repository of entertainment
Herb Boyd | 8/9/2018, 12:38 p.m.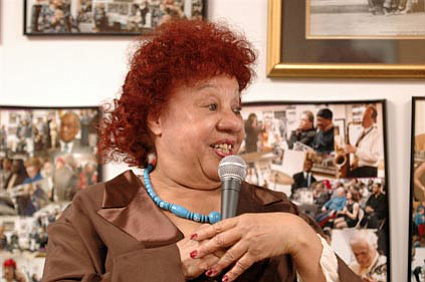 Leafing through a book on the great vocalist Billie Holiday, I stumbled on a photo attributed to Delilah Jackson. That photo was just one of thousands from her immense collection, which included a trove of entertainment memorabilia piled and scattered throughout her apartment in lower Manhattan.
A visit with Jackson, a veritable encyclopedia of entertainment, particularly of the African-Americans who have played a role in its history, means you've set aside at least several hours for her stories and recollections. "You see that photo over there of Josephine Baker?" she asked. 'Well, that was taken when she was in the chorus line of 'Shuffle Along,' the Broadway production with music by Eubie Blake and Noble Sissle." Her words tumbled out in a delightful cascade and you could almost hear the songwriters at work.
Although Jackson could deliver hours of infotainment on others, she was always reluctant to talk too much about her own life, other than saying she was born and raised in Harlem and lived on West 126th Street, which put her near the stage door of the Apollo Theater. If geography is fate, Jackson met hers on that street where on any given day or evening a parade of famous entertainers caught her all-seeing eyes, her intuitive curiosity.
"When the show would break [at the Apollo], the entertainers would come right down my block and I would see all of them: Buck and Bubbles, Duke Ellington, Count Basie, the Ink Spots," she told a reporter. "Every day was like a holiday."
This fortuitous location was the beginning of her lifelong fascination with the world of entertainment, and from her interest in the dancers, especially the Lindy Hoppers, she put her own feet to work, and later at events showcasing the dancers and their history, her reddish hair could be seen bobbing and weaving in the throng.
But her joy and love was keeping track of the Black theater and films and preserving those precious moments on Broadway, and few institutions were as energetic and devoted to this task as Jackson. In boxes, in scrapbooks, on the wall and sometimes squirreled away in a back room was a cornucopia of entertainment history. One of her favorite subject was Sisseretta Jones, or Black Patti, one of the most gifted opera singers of the 19th century. When she began sponsoring programs for former vaudeville and burlesques performers, she named it the Black Patti Project in honor of the great singer.
Jackson rarely missed a funeral of a notable from the Harlem Renaissance and inevitably was asked to say a few words about the recently departed, which she could do without notes. And she was often sought out by writers and producers in need of authenticity about a personality or event, and she often regaled listeners about her participation as a consultant in the making of the film "The Cotton Club." Her expertise was so valued and admired that she was given a cameo role in the film, sashaying down the street, dressed to the nines with her beau.