Delilah Jackson, a treasury and repository of entertainment
Herb Boyd | 8/9/2018, 12:38 p.m.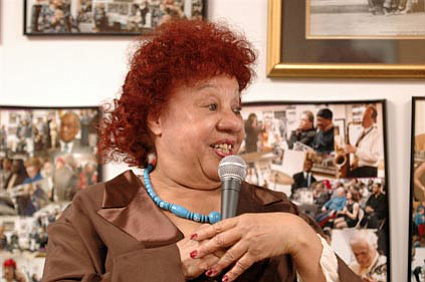 When she was interviewed at the Jazz Museum in Harlem in 2006 there was a record turnout to hear her reminisce about dancers such as the Copasetics, the Berry Brothers and especially Harold and Fayard Nicholas.

"And these, like Cholly Atkins and Honi Coles, were just the most popular ones," she explained. "There were hundreds of others, equally capable on the dance floor." And it was these unheralded dancers and other entertainers who attracted Jackson's attention and inspired her to make sure they were not forgotten.
One of the last times she was seen in public was in attendance at Cobi Narita's Place in midtown Manhattan, where she was frequently among the crowd gathered there to dance and listen to some of the finest jazz in the city. On this occasion, Jackson was not her ebullient self, and even the presence of her longtime friend and former dancer Mable Lee only brought a glimmer of cheer. It was if she was mulling over what she had to say, expecting to be called upon to put the evening into historical perspective.
Putting things into historical perspective was Jackson's calling, and no one did it with such flair and flourish, almost as if she had actually experienced those moments when Black Patti dominated the stage, when Cab Calloway, his hair flying in every direction and nimble feet matching each toss of his head, as if she was once again on 126th Street watching that glamorous entourage of talent marching pass her home coming from or on their way to the Apollo.
The world of entertainment lost one of its most dedicated keepers and repositories when she died Jan. 12, 2013, at her home in Manhattan. Only then did we learn she was 84 or 85, depending on the source. That might be debatable but what is uncontrovertibly true, Jackson was a remarkable historian and collector, and those valuable items await a researcher, a writer endowed with Jackson's passion and commitment to tell her stories.