Equatorial Guinea freedom coup remembered in New York
8/9/2018, 10:21 a.m.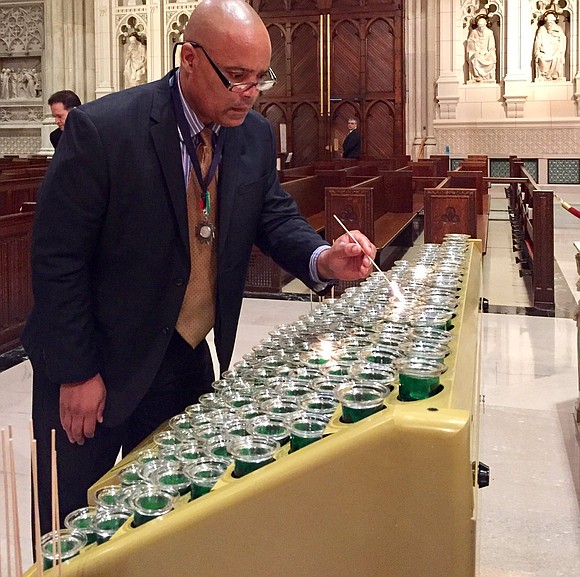 In the early hours of Aug. 3, the 39th anniversary of the Freedom Coup, Don Victor Mooney lights a candle at Saint Patrick's Cathedral in memory of the lives lost during the liberation of Equatorial Guinea and offered a prayer for the continued leadership of head of state, His Excellency, Obiang Nguema Mbasago. Outside of the cathedral, Don Victor Mooney condemned the mercenaries who attempted to overthrow the current regime in December 2017. 
"Equatorial Guinea remains one of the most stable and peaceful nations in the world," said Mooney.  "However, we must be diligent of our adversaries—both domestic and international."
In Oyala, proclaimed the City of Peace, President Obiang mark the day by decorating H. E. Teodoro Nguema Obiang Mangue, vice president of the Nation, with the Medal of the Order of Military Merit First Class. Other members of the armed forces were decorated and certificates issued for their service. 
Around the world, the Diplomatic Corps of Equatorial Guinea sent congratulations to the head of state for the triumphant victory Aug. 3, 1979, and the successful forums recently held in the country. Among them, His Excellency, Anatolio Ndong Mba, permanent representative to the United Nations for Equatorial Guinea. In prepared remarks, the ambassador said, "Within this atmosphere of peace, we take this opportunity to congratulate his excellency and the government for the recent and successful culmination of the VI Table of the National Dialogue between the government and the political parties of the national spectrum since, without peace, that table could have been held. Likewise, we wish your excellences success for the celebration of the eighth Friends of Obiang Movement Forum held in the city of Djibloho."