Great Wolf Lodge: The perfect family vacation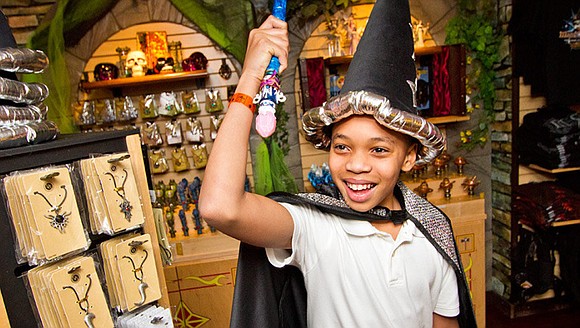 Great Wolf Lodge in the Poconos in Pennsylvania is the perfect family vacation! This resort is so family friendly, it will put everyone at ease, not just the kids. My family and I visited there and the second we pulled into the parking lot and saw the gorgeous lodge we were excited to begin our vacation.
Inside the suites everything is beautiful, clean and relaxing. Our room had a cute bathroom, a counter with a microwave and a mini-fridge underneath, a dresser, flat-screen TV, two beds, an entertaining area with a small table, chairs and sofa bed, and a private terrace. It was breathtaking to view the mountains in the distance. The beds were a slice of heaven.
During the breakfast buffet a show of animal characters was held in the lobby to entertain the little ones, who were enthralled. The restaurant on the lobby level, Loose Moose Family Kitchen, has amazing food and freshly baked goods made in the on-site bakery. The selection of food for the buffet is more than you could imagine, and everything is fresh and delicious.
After filling up on the amazing breakfast, my family and I changed to our bathing suits to go to the fabulous indoor water park. Families play in several pools, some with water levels for the little ones and others going as deep as 5 feet. Activaties include basketball playing in the pool, jumping in the wave pool (that was our personal favorite) or simply floating on a tube down the lazy river. There is a Jacuzzi for kids that the entire family is welcome to enjoy and a Jacuzzi for adults who just need some alone time. There are little-one catered water slides and enormous tube slides that wind above your head. In addition to all of that there is a huge outdoor pool area. Whether you're inside the indoor water park or partaking of the sunny outside pool, food stands abound and there are cabanas available. Throughout Great Wolf Lodge there are a couple of restaurants to choose from that have American, Southern and Italian food.
One of the things I noticed as I walked around is the diversity of the families who were there on vacation. You had people of every race and ethnicity, and there was also a very inclusive staff with people from various ethnic backgrounds. It was an environment for everyone to feel comfortable. Jason Bays, assistant general manager, explained, "We specialize in activities for children 12 and under—that's our sweet spot. Our activities are geared to bring all the families closer together." Talking about the popular activities at Great Wolf, Bays said, "We have the indoor water park—75,000 square feet of indoor space with slides, rides and a pool. When you're ready to dry off there's Magiquest, our interactive scavenger hunt that happens throughout the hotel. [Get your wand and get going as you get clues and find treasures.] There's mini-golf, Ten Paw Alley bowling [catered with small lanes and 5 lb. balls so everyone can enjoy], a spa for adults and a spa for kids. We have kids' activities with our Great Wolf character appearances. We have a pizza place. A full bakery downstairs that makes baked goods daily."