Indonesian styles for fall '18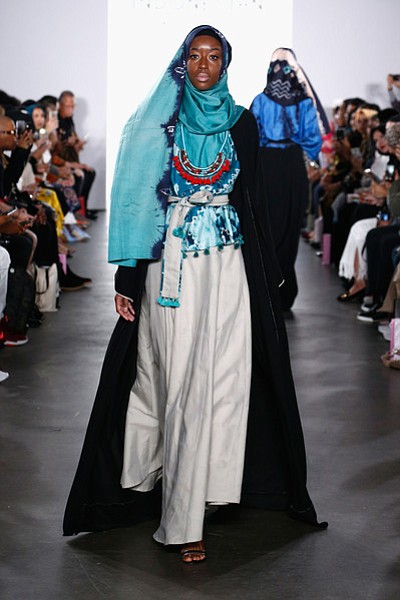 From Jakarta, Indonesia, fashion designer Vivi Zubedi presented an elegant collection at New York Fashion Week. Her collection became a spotlight, not only to the media but also to the international fashion industry.
As a fashion designer and entrepreneur, Zubedi's mission is to support entrepreneurs, especially women entrepreneurs in South Kalimantan. For the international market, she promotes the production of original fabrics from South Kalimantan. These unique fabrics are special, because of the intricate techniques that are used in creating these fabrications. Women, ranging in age from teenagers to adults and seniors, work on these traditional materials. "These women should be highly praised for preserving Kalimantan's traditions," said Zubedi. Her dream is to improve the economy of these entrepreneurs by introducing the traditional fabrics in the international fashion stage. Through her presentation of these fabrics, she hopes her efforts will improve their lives.

Before working in fashion, Zubedi graduated from Universitas Negeri Sumatera Utara (University of North Sumatra) with a degree in accounting. She soon realized her passion for a career in fashion. She learned how to sew and make clothing patterns. Today, she showcases her label Abaya Collections to promote the Muslim womenswear as a well-known entity in the fashion industry. Zubedi's brand, Abaya, has become very successful in London, South Africa, Germany, Dubai and Qatar.
Tonya Taylor, a New York-based womenswear brand, is defined by femininity and eternal optimism. Founded and designed by Taylor, the company brings a collection of modern, feminine shapes. Her use of color and original prints is very artful. Created by Taylor's team in their New York City design studio, each print began as a hand-painting. Playing with texture and movement, the brand lends a new desirability to ready-to-wear. Colors are bold. Silhouettes are soft. Made in high-quality fabrics, Taylor's pieces are easy-to-wear. Overall, the collection promotes a lighthearted attitude for women who celebrate the art of dressing.