The Jr. NBA Championships, the Little League of basketball, takes over Disney
Vincent Davis | 8/9/2018, 1:25 p.m.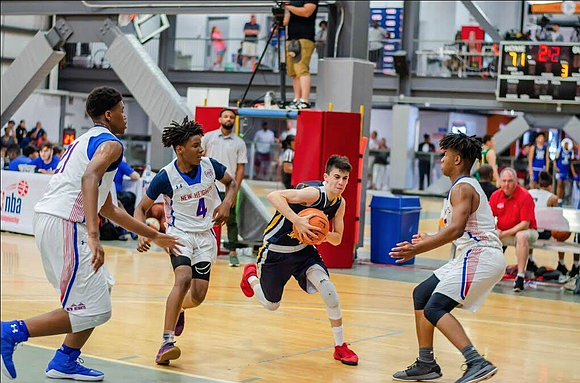 The Jr. NBA World Championships begin this week at the ESPN Wide World of Sports Complex at the Walt Disney World Resort near Orlando, Fla. This new 8,000-seat facility just opened at the beginning of the year.
In partnership with the NBA, the games, featuring top ranked 14-year-old boys and girls from here and abroad, comprise 16 teams for each division. The tournament, the first of its kind, is aired on Fox Sports television. It's basketball's version of the Little League World Series.
The games consist of 16 regional champions, eight from the United States representing the Central, Mid-Atlantic, Midwest, Northeast, Northwest, South, Southwest and West regions and eight international teams representing Africa and the Middle East, Asia Pacific, Canada, China, Europe, India, Mexico and South America.
The overall competition begins with pool play to determine the seeding for bracket play. Each team will play three pool games.
Representing the Northeast Boys Team is 6th Boro Hoops from Westchester County, coached by Nemanja Zarkovic. His assistant is Nihad Musovic.
His team is composed of players from Bedford; Hastings on the Hudson; the Bronx; Corona, Queens; and Rego Park, Queens. Five players will attend Fordham Prep when school begins.
"This team has been together for about two-and-half years," noted Zarkovic, a former point guard from Fordham University, who grew up and learned to play basketball in Canada. He majored in finance and economics.
Zarkovic's team has been busy all summer, playing in various tournaments before securing a position in the Jr. NBA.
"We've played in the Gym Rats Tournament in Albany, N.Y., the Adidas Regional Tournament in Ardsley, N.Y., and the A Game Tournament in Springfield, Mass.," he said.
The Jr. NBA Championship will be their biggest stage thus far. "We've told them, 'This is not a vacation,'" Zarkovic said. "'This is the biggest stage of our lives. We have a chance to step into something big, lay down our mark if we don't get distracted by the excitement of Disney and all of the cameras.'"