Judy Reyes' Quiet Ann swings a very big bat on 'Claws'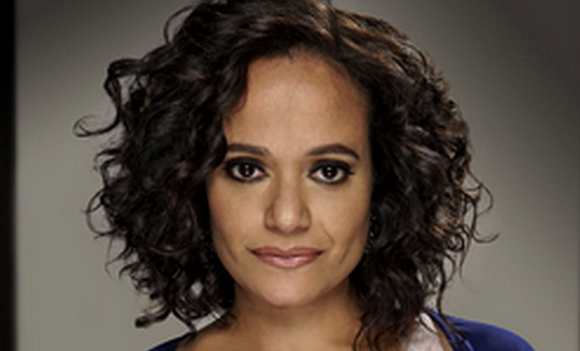 There is so much to love about actress Judy Reyes, and frankly it's a challenge to condense those attributes into a bite-sized article. Right now on the television front, she is slaying in the new comedy "Claws," playing the character Quiet Ann, a butch lesbian with a soft side and a very firm grip on a baseball bat. "Claws" is about the adventures of a hot Florida nail salon run by Desna (Niecy Nash), who attracts the worst of the city's underground who dabble in illegal drugs, legal prescription painkiller drugs and laundering the money earned from a very unethical group of characters. Quiet Ann is the muscle for Desna's crew and takes the safety of the misguided women very seriously.
You know Reyes' work I am sure. She is best known for appearing in the now classic television shows "Scrubs," which debuted in 2001, and "Devious Maids."
Here is an edited interview with Reyes about what she loves about Quiet Ann and working in the new comedy "Claws."
AmNews: What's happening in the world of "Claws?"
Reyes: What's not happening in the world of "Claws?" We are so very deep into the season, it's hard to remember sometimes. We are having fun and the reaction of growing fans is exciting.
AmNews: Based on social media responses, your fans have a strong reaction to your character. Thoughts? Your body language is stunning, FYI.
Reyes: I appreciate them a lot. Wait. Thank you for the compliment about body language. That means a lot. I come from the world of New York theater, so again, thank you. Quiet Ann is the most different character I've ever played, and I love getting to know her. I also appreciate how well the LGBTQ community has responded to her. I'm so grateful that the response has been overwhelmingly positive.
AmNews: You play Quiet Ann with such dignity. Did you do any special research?
Reyes: (laughing) Thank you. You know what, I actually know a lot of Quiet Anns, so in a way, I did.
Building a character from the ground up, which includes choosing the clothing, the hair—everything. I observed the people in my life, and I despise her being silent, for the most part. I am intrigued and wanted to deliver something completely different. It was a lot of fun to build.
AmNews: One of the strengths of the show is the camaraderie between the girls. How did you guys work to establish such great chemistry?
Reyes: A lot of credit has to be given to the writing and casting, which consists of an extremely powerful group of extraordinary women: Jenn Lyon, Carrie Preston, Karrueche Tran and, of course, Niecy Nash. All of them are just amazing. Besides being very talented, they're veterans. They really care about the show and we care about each other. We really love each other and it shows on the show.
"Claws" airs Sundays at 9 p.m.,
EDT, on TNT.