Liberty lose what could be last-ever game at the Garden
Lois Elman | 8/9/2018, 1:29 p.m.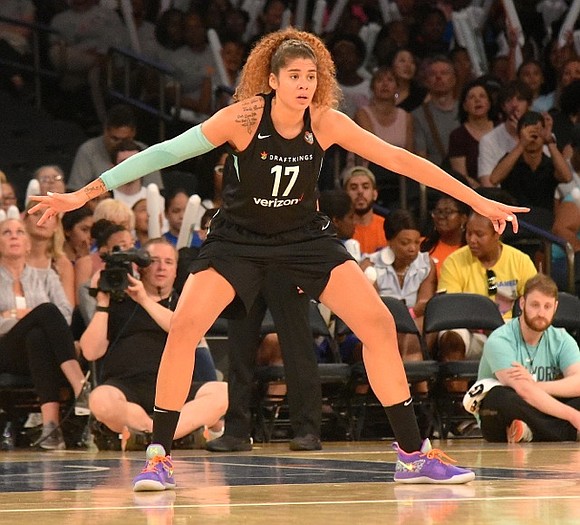 The New York Liberty entered Monday's camp day game already out of playoff contention. With just seven games left to the team's 2018 season, the players were playing for pride, and for three quarters of the game, it was a fierce battle. Considering the Liberty, which has won just seven games so far this season, was playing the top team in the WNBA, the Seattle Storm, the players kept pace.
Tied at halftime, the Liberty actually took one- and two-point leads in the third quarter, but it all evaporated in the fourth quarter, in which the Storm outscored the Liberty by 15 points. The final score was 96-80 in what might have been the Liberty's final game at Madison Square Garden.
"We're pros," said Smith. "We should show up every single day both mentally and physically or mentally if your body is not feeling good."
In most games there has been a point when things unravel. Whether it's turnovers, fouls or missed shots, Smith said little breakdowns have led to losses. It was a nice vibe to be in Madison Square Garden, the Liberty's home court, for most of its history.
"We really do want to get better," said Smith. "We're all playing for next year. We're all playing for jobs, for whatever. You're also playing for yourself. You're playing for the New York Liberty and the pride that you have. I love that we came out today and competed. I look forward and expect us to do the same the rest of the way."
Tina Charles said it's always great to play in the Garden and especially enjoyable to play before an audience of enthusiastic kids.
"If it is our last time, I'm just thankful that I had an opportunity to be here for the last five years," said Charles. "I hope that we get better. I hope there's something we can take away from the next six games we have left and there can be some improvement."
She added, "It's one of those seasons, you always have things in your mind—what could you have done different? You've just got to live with the end results."
The Liberty has one more home game at the Westchester County Center, and then will finish its season on a four-game West Coast road trip.