Multi-talent Chapman Roberts talks 'Smokey Joe's'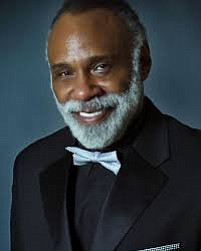 If you're not familiar with the name Chapman Roberts, you need to be. Roberts, 75, has been in show business for 50 years and is still going strong. The original vocal arranger for "Smokey Joe's Café" currently playing at Stage 42 on 42nd Street, he boasts an extensive and impressive background.
Roberts started his career as part of the cast of the original Broadway production of "Hair" and has appeared on- and off-Broadway in "Salvation," "Hello Dolly," "Jesus Christ Superstar" and "The Fantasticks." He has recorded with Gregory Hines, Horace Silver, Weather Report and B.B. King. His vocal arrangements were used in eight original Broadway and West End cast albums of shows that garnered 25 Tony nominations. His vocal arrangements and musical direction have also been utilized in such Broadway and West End successes of "Don't Bother Me, I Can't Cope," "Eubie," "Bubbling Brown Sugar," "You're Arm's Too Short to Box With God," "Blues in the Night," "Five Guys Named Moe" and "Avenue X." His off-Broadway endeavors include "Three Mo Tenors," and he has also appeared in films, including "Year of the Comet" and "Solomon and Sheba."
Roberts' skills are so formidable that he has been sought out and served as a special event musical director and supervisor for President Jimmy Carter, Ronald Reagan's Kennedy Center Honors, Mrs. Lyndon Johnson, the inaugural gala of Gov. Ann Richards of Texas, India's Jazz Yatra Festival, Lincoln Center, Manhattan Plaza, the Kool Jazz Festival and St. Peter's Jazz Church in New York City. He has also worked with the Duke Ellington Orchestra, Cleveland Orchestra, Dance Theatre of Harlem, Henry Mancini, Al Green, Patti LaBelle, Bette Midler's Harlettes, Eubie Blake, Bill Cosby, Harry Belafonte, Sammy Davis, Willy Nelson, Foreigner, the Manhattans, Leslie Uggams, Ruth Brown, Freda Payne, Eartha Kitt, Della Reese, Lena Horne, Savion Glover, Paul Simon, The Public Theatre, the Metropolitan Opera Guild, the Rock and Roll Hall of Fame, the Richard Allen Center for Culture and Art, the Morgan State Choir, the Harlem Gospel Singers, "American Idol" and President Barack Obama.
Have you taken a breath yet? Well, there's still more. Roberts is also a unique and incredibly supportive person who has produced Broadway shows with Black focus and stars, including "Fela!," "Stick Fly," "Mountain Top" and "The Trip to Bountiful." He also conceived and produced "Black Stars of the Great White Way."
"The Gospel According to Broadway," a Chapman Roberts concept chronicling 300 years of African-American sacred music, was recognized in 2007 with a recording by the BBC Concert Orchestra, the Michael Terry Singers USA and the London Community Gospel Choirs.
Now that you know more about the man and understand his vast capabilities, I'd like to share a recent Q&A he did with AmNews about "Smokey Joe's Café."
AmNews: Chapman you have done it all—acting, producer, executive producer and vocal arranging for the 50 years that you have been in the business. How does it feel to have "Smokey Joe's Café" back onstage at Stage 42? What types of decisions did you have to make with working with the songs from the show, including "Stand by Me," "I'm a Woman," "Hound Dog," "Fools Fall in Love," "On Broadway," "Yakety Yak," "Pearl's a Singer," "Treat Me Nice," "There Goes My Baby," "Love Potion No. 9," "Jailhouse Rock" and