Multi-talent Chapman Roberts talks 'Smokey Joe's'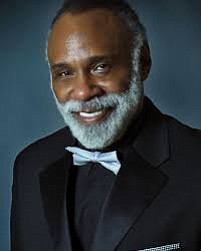 "Spanish Harlem?"
Roberts: Though in some ways gratifying, it remains a bit awkward for me because even though some of my original work "note wise" is represented, regrettably I was not asked to participate in the creative process of this new treatment of the work. Therefore, the selection of the singers, the assignments of the songs, the sequence of the songs, dynamics and my own particular approach to those songs in collaboration with these new singers is not comprehensively embedded in the fiber of the piece. I sincerely regret I was not offered the opportunity and pleasure to work with them and combine our musical energies, as they are all truly gifted.
AmNews: What is involved in being a vocal arranger?
Roberts: I have no idea what it is for other vocal arrangers. I only decide to accept a show after I have thoroughly reviewed the songs, script and cast and decide that what I have to offer the piece enhances the work of the composers, through the respective and combined strengths of the singers, thereby enhancing the director's vision and elevating to the maximum the enjoyment potential of the audiences. In this yet another jukebox musical, I was presented with the same unique challenge not offered most vocal arrangers. That is ensuring that people who danced, laughed, cried, got drunk and made babies to this legendary genre of music, and sophisticated theater audiences who have only heard it from afar (or on the sneak) reach a consensus, which is, "Hey, I really like it like that!"
AmNews: What type of professional background and educational background equips someone to be a vocal arranger?
Roberts: Today most vocal arrangers are well trained pianists who do not sing but as musical directors are assigned vocal arranging duties and the subsequent teaching thereof as a secondary assignment. I am not. I am a trained singer—I studied with Paul Robeson's teacher among others—who has performed in smash Broadway hits ("Hello Dolly," "Hair," "Jesus Christ Superstar"). I impart the knowledge gained from that experience and training to all of the singers I encounter. I have never heard of anyone aspiring to or training to be a vocal arranger, nor have I ever met a vocal arranger who could sing all of the parts they create, which I still can, or has performed on the Broadway stage, not even when I was still performing.
AmNews: It has been 23 years since "Smokey Joe's Café" was performed in Manhattan. What about it allows it to be able to come back to a new generation? This production features direction and choreography by Joshua Bergasse and has a cast of nine that includes Dwayne Cooper, Emma Degerstedt, John Edwards, Dionne D. Figgins, Nicole Vanessa Ortiz, Kyle Taylor Parker, Jelani Remy, Max Sangerman and Alysha Umphress. How do you feel this production of the show is doing it justice?
Roberts: This is an enormous challenge. All of the performers in the original Smokey Joe's were seasoned Broadway veterans who were uniquely talented, and we as a creative team custom designed everything they did to suit and fully exploit their formidable talents. Most of the new performers in "Smokey Joe's Café," if not all, were toddlers at that time. This production is dance driven. The original production was voice driven, which is why the show and several of the performers were nominated for Tony's. The show ran for five years (a record for Broadway musical revues that still stands), and the cast album won the highly coveted Grammy. "Justice" is determined by the enjoyment index of the new audiences, which will determine the length of the run and so far, so good.
AmNews: What should audiences expect when they go to "Smokey Joe's Café?"
Roberts: Performed by a dynamo multi-talented cast, the revival of "Smokey Joe's Cafe" is the most energetic show running in the world today! New audiences to "Smokey Joe's" should expect to sit on the edge of their luxurious seats and be entertained, delighted, titillated and worn to a frazzle, simultaneously thanking God they have the privilege of paying a great ticket price to see this blockbuster!