'Smokey Joe's Café' is a sensation!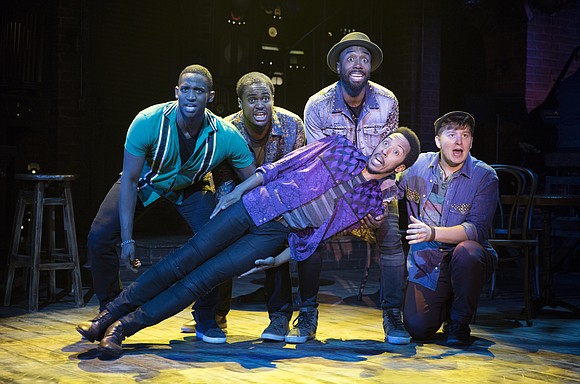 "Smokey Joe's Café" is smokin' at Stage 42! The songs of Leiber and Stoller are timeless classics that are absolutely amazing to revisit, and the ensemble has some of the most phenomenal voices that you can experience in theater.
The musical features more than 30 stupendous songs that will definitely take you back, including "Dance With Me," "Keep on Rollin,'" "Kansas City," "Along Came Jones," "Poison Ivy," "Yakety Yak," "Charlie Brown," "On Broadway," "Trouble," "Pearl's a Singer," "I'm a Woman," "There Goes My Baby," "Love Potion No. 9," "Spanish Harlem" and "Stand by Me."
Kyle Taylor Parker, Jelani Remy, John Edwards and Dwayne Cooper masterfully handle several memorable group numbers. I thoroughly enjoyed every moment of numbers such as "Keep on Rollin'"—their voices were stunning! These men are so vocally talented and their harmonies are wonderful. "Along Came Jones" is performed with a lot of humor. "Poison Ivy" and "Love Potion No. 9" were very memorable. "On Broadway" was magnificently done. I love the choreography and those phenomenal voices.
Although the song "Charlie Brown" featured the entire company, I especially loved the bass voice of Cooper, who was charming throughout the show with his perfect tone and pitch. "There Goes My Baby" was another fantastic number. These men do a great job and truly bring their songs to a new generation to appreciate. Max Sangerman, who replaced Dan Domenech in the performance I saw, sang in several songs with other cast members and he did a fine job.
The ladies in the musical also hold their own and include Alysha Umphress, Dionne D. Figgins, Nicole Vanessa Ortiz and Emma Degerstedt. Umphress has a powerful voice with a jazz flare as she belts out "Trouble." Her voice is nothing less than stunning! She also captivated the audience with a moving and delicate performance of "Pearl's a Singer." All the ladies came together and set the stage on fire while tearing up the song, "I'm a Woman!" Ortiz gives a show-stopping performance as she belts out "Fools Fall in Love."
There is something for everyone in this splendid musical. There is romance with a delicate balance of graceful dance and love as Figgins and Remy take the stage for "Spanish Harlem," with Remy beautifully singing this glorious song and Figgins accompanying him in a marvelous dance number. I loved it and so did the rest of the audience.
The audience was singing and moving in their seats and having a terrific time. This musical is for all generations! Some people raised their hands and waved them in appreciation while hearing a throwback tune, and younger people sat and smiled, some in awe as they heard these songs for the first time, performed by exceptional singers.
"Smokey Joe's Café" is a sensation! It is brilliantly directed by Joshua Bergasse, who is also the musical's choreographer. His dance moves are unforgettable—smooth, graceful and at times fun.
"Smokey Joe's Café" has a predominantly African-American cast. It also has a long list of producers, including Stephen Byrd and Alia Jones-Harvey.
Make plans to see "Smokey Joe's Café."
For more information, visit smokeyjoescafemusical.com.