Art fashion: Plaids in play for fall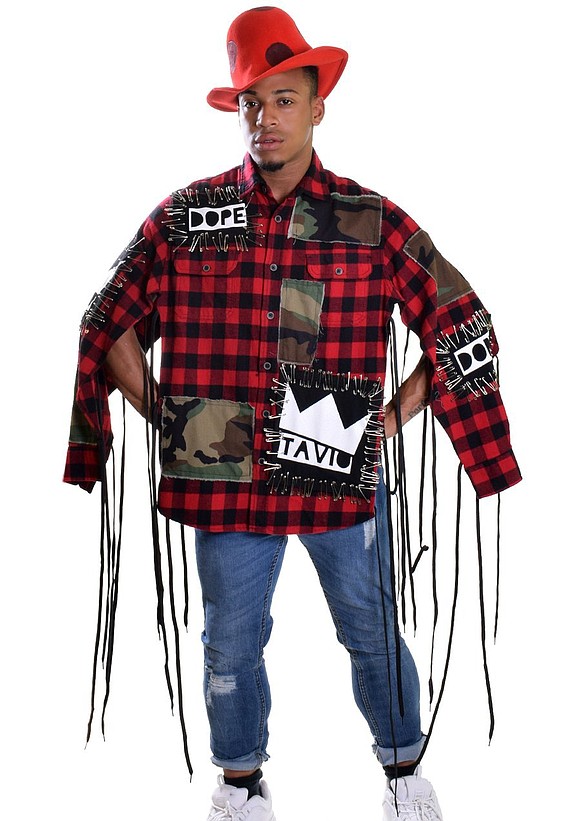 With fringe, patches and other artsy details, folks are mad about plaid for fall. The new brand, Dope Tavio, created by fashion designer Octavio Aguilar, was recently introduced by Patricia Field for her Art Fashion Gallery. This designer's clothes were first spotted in 2016 by his muse, rapper Sharaya J. She performed in pieces for her music video, "Big." Sharaya J also helped to introduce Dope Tavio while strutting in the styles during New York Fashion Week, at her red carpet events and at her performances throughout the country. For men and women, Aguilar's plaids are hot!
Aguilar's inspiration comes from old school New York. For his collection, he mixes the 90s club kid with early hip-hop vibes. It's a genderless line with avant-garde street wear pieces that are made with materials such as shoe strings, belts and safety pins. He enhances the line by patching in vintage fabrics, including denims, camouflage and safety vests
Through his artistic vision, Aguilar has created one-of-a-kind pieces that have been sought out by artists such as Erykah Badu, Ty Hunter, Kelela and Janet Jackson. Aguilar presented his first collection for Dope Tavio during New York Fashion Week in February 2018. Since then, styles from the collection have been featured in fashion editorials for top magazines.
Aguilar lives and works in New York. Boundary pushing streetwear, the brand Dope Tavio has made a bold statement. The line has impressed some of the most forward thinking artists and fashion connoisseurs of New York. The look is exaggerated with draping sensibilities. Known for his out-there approach on ready-to-wear fashion, Aguilar creates outstanding staples such as denim and leather, pieces often put together like a rock and roll paper doll. The Dope Tavio label has reinvented the street fashion wheel. These plaids are seen throughout the world of fashion.
You remember Patricia Field. In 2016, Field sold her iconic retail property and launched a new concept, ARTFASHION. Born out of her long personal ties to New York art community legends such as Keith Haring and Jean-Michel Basquiat, ARTFASHION now sees Field as curator. She has received widespread critical praise for her pioneering vision of what constitutes style, a fashion philosophy, creative expression and an understanding of oneself over the chasing of trends.
Her distinctive approach to dressing is evident through her work as a costume designer. Field single handedly changed the way women dress through the HBO series "Sex and the City" (arguably the most fashionable show in television history) and the feature films. For her work on "Sex and the City," Field won an Emmy Award and received five nominations for Best Costume Design. It was all with the help of a thrift store tutu that created one of the most iconic onscreen New York fashion moments since Audrey Hepburn donned Givenchy for a stroll past Tiffany's.
Field also received an Academy Award nomination for "The Devil Wears Prada," as well as continued recognition for her work on television series such as "Ugly Betty" "Hope & Faith" and most recently for Darren Star's hit TV Land series "Younger," starring Sutton Foster and Debi Mazar.
Field is also a seasoned retailer, establishing her eponymous boutique in New York City in 1966, which remained a fashion landmark for 50 years. From its famed location on East Eighth Street to its final residence on the Bowery, her store was a downtown institution. She is internationally known and frequented by celebrities, stylists, emerging designers, artists, performers and club-kids alike. Today, Field works with, and guides, an impressive group of young, talented visual artists.
The Art Fashion Gallery consists of original, made-to-order hand crafts. These pieces are curated by Field and sold exclusively at www.patriciafield.com.