Black Baltimore police officer resigns over assault video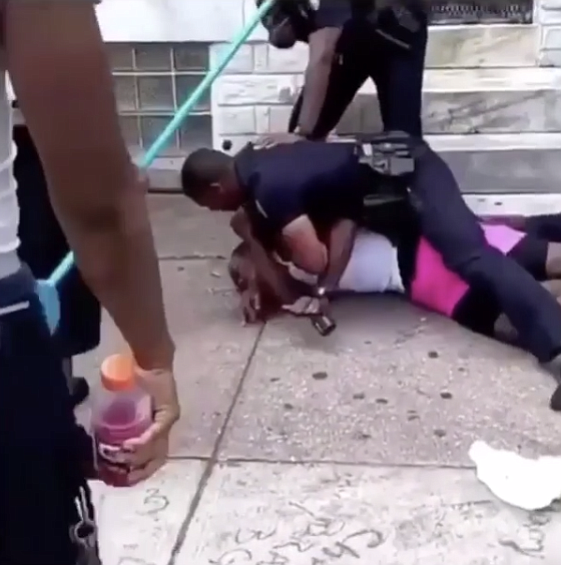 Former Baltimore police officer Arthur Williams resigned and has been charged with felony assault after he was caught on video beating a man he stopped on the street while on patrol.
The incident took place Aug. 11, when Williams was patrolling East Baltimore with another officer and stopped a man, demanding to see his ID. When the man questioned Williams as to why he needed to show his ID, the man threw Williams' hand off him before Williams started hurling punches. Williams wrestled the man to the ground as onlookers watched the entire ordeal.
Video of the assault was caught by a bystander on a cellphone. The 36-second clip went viral on social media. Williams resigned from the Baltimore Police Department the following day.
The victim in the video was later identified as 26-year-old Dashawn McGrier. His lawyer said his client's injuries include fractured ribs and jaw. He said the video clearly shows that McGrier did not resist arrest and Williams did not inform McGrier that he was being detained.
"While I have an expectation that officers are out of their cars, on foot and engaging citizens, I expect that it will be done professionally and constitutionally," said Interim Baltimore Police Commissioner Gary Tuggle. "I have zero tolerance for behavior like I witnessed on the video today. Officers have a responsibility and duty to control their emotions in the most stressful of situations."
Tuesday, a Baltimore City grand jury indicted Williams on several charges, including misconduct in office, first degree assault and second degree assault. The case is being prosecuted by Baltimore's Police Trust and Police Integrity Unit.
"It is important that the community knows there is one standard of justice, no matter your sex, race religion or occupation," said state attorney Marilyn Mosby. "Police officers are sworn to protect and serve, and when that oath is taken for granted and an abuse of that power is evident, we will hold them accountable to the fullest extent of the law. This is an integral part to rebuilding trust in our criminal justice system."
Police-community relations continue to be at a low point in Baltimore since the 2015 death of Black, 25-year-old Freddie Gary. In that incident, Gray was arrested by Baltimore police officers for having what turned out to be a legal knife. While being transported in a police van in handcuffs and shackles, Gray suffered injuries to his spinal cord and died a week later in a trauma center.
The six officers involved in the case were charged in the killing but all charges were later dropped. Last year, the U.S. Department of Justice announced it would not bring federal charges against the officers.