Harlem Week, Jazz in the Valley, Nicole Mitchell
Ron Scott | 8/16/2018, 12:28 p.m.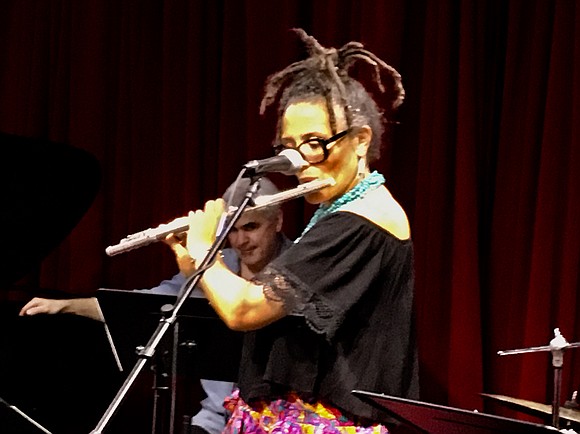 Since Harlem Week's inception as "Harlem Day" in 1974, its metamorphosis has gradually blossomed into Harlem Month, from July 29 through Aug. 25.
The motto and goal of the summer festival extravaganza has not changed, especially in the midst of gentrification as landmark clubs are demolished without an afterthought of placing a plaque to acknowledge the significance of what came before. Harlem Week continues to honor, celebrate and share the defining contributors of Harlem's undeniable cultural history that continues to make strides.
Harlem Week's 44th anniversary will offer more than 100 events that showcase the community's history and present state, from economics and education to politics, art, fashion, health and sports.
Aug. 18, Summer in the City kicks off at noon and continues to 9 p.m. at 135th Street and Fifth Avenue to St. Nicholas Park. There will be an International Vendors Village with music, clothing arts and crafts, food, job recruitment and corporate exhibits. The Harlem Honeys and Bears Senior Synchronized Swimming takes place 10 a.m. to 1 p.m. at Hansborough Recreational Center at West 134th Street and Lenox Cove.

Come out and support the children for the Harlem Spelling Bee at the Harlem YMCA from 3 p.m. to 5 p.m., saluting Dr. Lorraine Monroe, Jackie Rowe Adams and Lorraine Hansberry.
At the Uptown Saturday Concert on St. Nicholas Stage (noon to 6 p.m.), featured artists will include gospel great Marvin Sapp and Sarah Vaughn Competition winner Ashleigh Smith.
Aug. 19, Harlem Day presents an explosive day of activities from the Harlem/Havana Art and Photography Exhibit at the Harlem Hospital Center Mural Pavilion. The Fifth Avenue stage (1 p.m. to 6 p.m.) will salute Miriam Makeba, Celia Cruz and Beyoncé with performances from Broadway productions "Smokey Joe's Café" and "Once on This Island." The singer, songwriter and musician Nona Hendryx and the Jeff Foxx Band will also perform.
At 5 p.m. the Harlem/Havana Music & Cultural Festival will present the multi-talented pianist, composer and arranger Dayramir Gonzalez. He is another incredible musician from Cuba, who plays everything from classical to the roots of salsa and Cuban jazz, with a few twists in between.
Music of the International Cultural Exchange (noon to 6 p.m.) will salute Nina Simone, Janet Jackson and Winnie Mandela with performances by Raheem DeVaughn, Vy Higginsen's Gospel for Teens, Sundae Sermon and Music Director Ray Chew from ABC's "Dancing With the Stars," along with Harold Melvin's Blue Notes.
Jazz in the Valley is the most significant all-day summer jazz festival in New York State. This annual event takes place Aug. 19 in Waryas Park in Poughkeepsie. The well-versed invited performers are visually enhanced by the staggering backdrop of the Hudson River Valley.
What puts the Valley festival high on the list of jazz enthusiasts is its absence of R&B and smooth jazz acts. They have secured an amicable mix of young musicians forging ahead and established musicians whose stories swing in the traditional sands as they move toward new voyages.
Some of the many musicians playing are the vibraphonist Bryan Carrott (who has played with Muhal Richard Abrams and Henry Threadgill); the drummer and composer Will Calhoun (known from his days with Living Colour), a serious bandleader and first-call sideman; the alto saxophonist Donald Harrison, playing with the trumpeter and flugelhornist Eddie Henderson; all-around pianist/bandleader Benito Gonzalez; vocalist Renee Marie; saxophone swinger Javon Jackson; and the young bassist Mimi Jones, always worth seeing.