Harlem Week, Jazz in the Valley, Nicole Mitchell
Ron Scott | 8/16/2018, 12:28 p.m.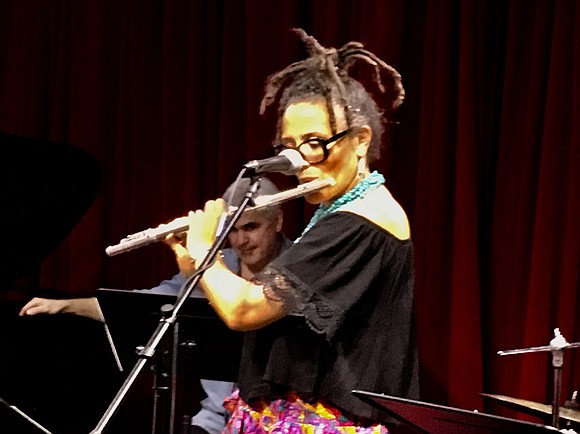 Jones' band will include drummer Mark Whitfield Jr., guitarist Andrew Renfroe and violist Leonor Falcon.
"As an African woman and producer, I am completely inspired by Ms. Greer Smith, for what she has been able to accomplish in her journey to present such a prestigious and fun festival," said Jones. "This festival always has a variety of musicians and projects on the cutting edge of the industry."
Mi Afrika Mi Corozon Project represents the African jazz diaspora. This work is a 25-year journey into some of the African cultural and religious sources of jazz, blues and dance music expressions of the mid to late 20th century. The instrumentation of four horns, African kora, piano, drum kit, expanded African and Latin percussion with three-players and vibraphone provides for a broad array of colors.
African percussionists Baba Neil Clarke​ and his son Ayanda Clarke will spread their rhythms from the motherland of Africa. Salieu Suso is a Gambian-born performer who started training to play the kora at just 8 years old.
Jazz in the Valley, a nonprofit organization under the auspices of TRANSART was founded by Greer Smith in 2000.
​Jazz in the Valley's educational component is "Behind the Beat: Intro to Jazz," a series of workshops conducted in area public schools that are designed to introduce young people from the region's underserved areas to  jazz music. This effort is in keeping with TRANSART's goal of creating a new generation of listeners from our youth who are unaware of the music, its historical significance and the artists who create it.

For tickets and a complete schedule, visit the website at https://www.jazzinthevalleyny.org/jitv-2018.
The flutist, composer and arranger Nicole Mitchell is a musical time traveler. Having only heard her recordings, I felt a bit of excited anxiousness leading up to seeing her live performances at the small but always stimulating venue, The Stone (housed in the New School), on West 13th Street.
Mitchell was in the midst of a residency, performing with various musicians and configurations each night. On my first evening, she performed with fellow flutist Robert Dick. The two engaged in a flute discord that included playing bass flute and piccolo.
The following evening, Mitchell performed her nine-part composition "Exnogenesis Suite: A Tribute to Octavia Butler" (Firehouse 12 Records, 2007, Black Earth Ensemble). The last time she performed this suite live was in 2008 at the Vision Festival (NYC).
For me, Butler was the best science fiction writer, despite some critics' raves over Ray Bradbury. I'm still waiting for one of her books to be made into a film. Obviously, she brings that Black perspective to science fiction that had always been missing until her appearance (she died in 2006 at the age of 58).
"My fascination with the unsettling nature of Octavia's literary work led me to compose this suite," stated Mitchell. "My compositional journey was stimulated by my emotional reaction to her novel 'Dawn,' rather than the specific events of the story."
The ensemble of cellist Marika Hughes, pianist Angelica Sanchez, alto saxophonist Darius Jones, bassist Ken Filiano, drummer Pheeroan Aklaff and vocalist Faye Victor joined Mitchell.
If this music were to accompany a Butler film, people would literally jump out of their seats. The intuitive ensemble transforms the music into a three-dimensional exercise. The notes from the flute pick at your skin, the alto pulls at your lungs and those deep bass rumbles make your fingers vibrate. SSShhhh! What's that mumbling, those moans? It's the vocals of Victor. No, it's the sounds of fear, darkness, "why and after" (one of the compositions). Who knew a cello could sound so mysterious. They engage in repetitive phrases, melodic romps up and down, sometimes all meeting at the bridge—Boom, Bang, Crash! Don't be scared. It's the "Dawn of a New Life." Mitchell's music exciting, invigorating and keeps you on the edge of your seat. Her website is www.nicolemitchell.com.