Harlem's Golden Hoops conclude—Smartball has one more week to go
Vincent Davis | 8/16/2018, 10:57 a.m.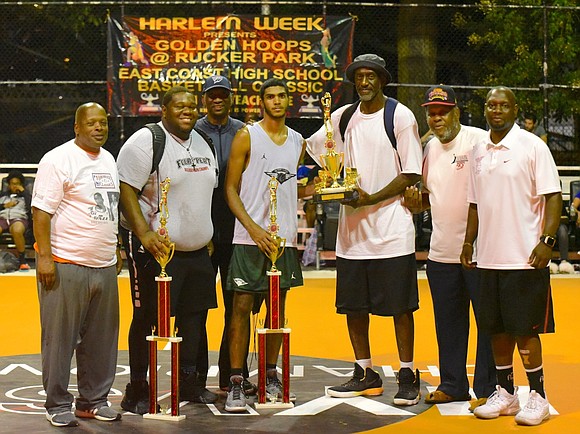 Summer basketball leagues and tournaments are concluding this week and next. Two of the most prominent are Golden Hoops and Smartball, both Harlem productions. 
The Golden Hoops featured two exciting games Sunday on the sacred grounds of Rucker Park, at Eighth Avenue and 155th Street, the high school girls' all-star game and the 19-and-under high school boys' championship game.
The all-star game matched New York and Connecticut in a 53-42 win by the young women of New York. Precious Cohen, from William C. Bryant High School in Queens, led the New York team with 21 points, 9 rebounds and 3 steals. Casha Rogers dropped 20 points with 10 assists. She also had 3 steals. They both were team MVPs.
The championship featured the Bingo All-Stars versus the Governors, who were overmatched. Led by Julien Jamison's 21 points, 10 assists and 4 rebounds, along with Tionne Palmer's 18 points, 10 rebounds and 20 points, 10-rebounds and 5 assists from game MVP Andre Rivera, Bingo's team blew out the Governors by 29, 79-50. Amadou Fofana of the Governors—14 points, 10 rebounds and 20 assists—received the Sportsmanship Award. 
The Smartball tournament, played at 135th Street and Fifth Avenue have games scheduled this evening (Thursday) and Monday and two all-star games Tuesday: the Girls Smartball High School All-Stars versus the New Jersey-Philadelphia All-Stars girls' team, and the Boys Smartball High School All-Stars versus the New Jersey-Philadelphia All-Star boys' team. The Smartball semi-finals will be held Wednesday and the championship Thursday.