Liberty lose in final home game of the season
Lois Elman | 8/16/2018, 11:02 a.m.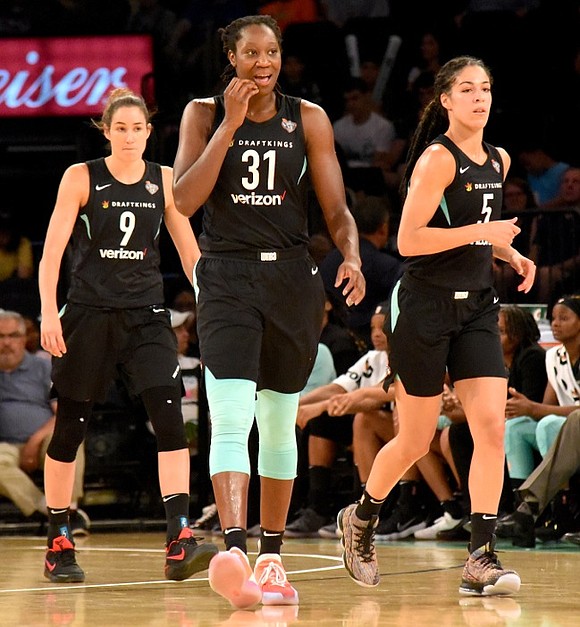 After Sunday's New York Liberty 86-77 loss to the Atlanta Dream in the final home game of the season, renowned journalist Mechelle Voepel tweeted, "There are longtime Liberty fans who've dealt with being ignored/taken for granted by MSG Co., made the 3-year trek to Prudential Center, and have endured this dispiriting season at Westchester County Center. I'm sorry; you all deserve better. But your loyalty is commendable."
Before a "sellout" crowd of 2,362, the Liberty suffered its 23rd loss of the 2018 WNBA season and its ninth in a row. Down to just eight players because of injuries, the Liberty came out strong—leading 48-37 at the half—but were unable to sustain momentum even though the Dream was without Angel McCoughtry.
"Another tough one," said Liberty coach Katie Smith. "Solid first half by us. I tried to tell them at half that they're not going to stop. We have to come right back out because they're going to come right back out with a lot of energy, same as we did in the first half. Then, they popped us in the mouth at the start of the second half, and that's all she wrote."
The Dream buried the Liberty 32-10 in the third quarter, and although the Liberty outscored the Dream 19-17 in the fourth quarter, it was another loss.
"Atlanta just wanted it more. Katie [Smith] had warned us that they were going to come out a different team," said Tina Charles, who played the entire 40 minutes of the game. "We came out sloppy and they came out hungry. The third quarter is what propelled them to the victory."
The Liberty is finishing this season on a four-game West Coast road trip. Given that three of the four opponents have already secured playoff berths and the fourth is in a battle to get to the playoffs, it is somewhat of a daydream that New York will get even one more win for the season. Still, die-hard fans can dream.
"They're so loyal," said Smith. "We appreciate them so much. They've gone through a lot this year. We are so thankful that they've been so supportive all year. They've been rowdy. They've been right there with us. We're pumped that they've been through thick and thin with us."