See 'Still Can't Trust No One' at NBT Aug. 25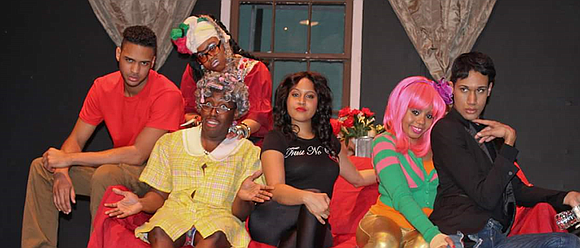 Aug. 25, 2018, Dreams Come True Productions will present their newest play, "Still Can't Trust No One," at The National Black Theatre, located at 2031 Fifth Ave., New York, N.Y. So stop in, enjoy a smile and even some laughs while watching this lights, cameras and action production! DCTP's last sold-out 2016 presentation of "Still Can't Trust No One," was held downtown at the American Theatre of Actors and received rave reviews. Uptown, this show will be a blast!
DCTP started in 2012, when founder Chance Anderson of MNN-TV's show, "What's the T," decided to transition into writing and producing stage plays with Dominique Darrell, Shanice Beck and Rashad Worthy. At first, Anderson wrote the original comedic stage play "Trust No One." Two weeks before its opening performance, Anderson died. The team was devastated, but after some time was allowed to pass, they all agreed to open the play and perform in his memory.
A small production company, Dreams Come True Productions is committed to staging breathtaking performances that take you on a journey beyond the theater. DCTP is self-funded, and this extraordinary team of actors, writers and directors earnestly put everything into their work.
Born in Yonkers and raised in the Bronx, Shanice Beck is one of the CEOs. "I always wanted to act," she commented. However, you would never know it from her shy, quiet personality. Onstage, Beck explodes with dynamic personality while playing her character. Self-taught, she is hilarious in her role, showing off her tremendous gift as a working actress. Her characters are often sassy, sexy, street-wise, rough and tough. Her credits include an appearance on "Law & Order" and in one of Mariah Carey's music videos in 2002. Also a playwright and director, Beck performed a stint as a co-host in the MNN-TV's show, "What's the T?," and worked on several of the program's projects. Her appearance in the 2007 stage play titled "Sex Is" was notable.
Dominique Darrell, another DCTP actress/executive, brings her credits from such hits as "Deep End," "Arsenic and Old Lace," "For Colored Girls Only Who Have Considered Suicide/When the Rainbow Is Enuf," "Macbeth," The Laramie Project" and "Sex Is." As a writer and producer, Darrell takes pride in her repertoire. "Still Can't Trust No One" is a series that began in July 2014. Darrell is pleased to have written the story with her business partners and friends, and is excited about her future endeavors and plans to utilize her talents to continue entertaining the world.
Rashad Worthy, known as Ya Man Bam, is an American-born actor, writer, director and producer. Raised by a legendary entertainment family in Hollis, Queens, Worthy was introduced to the arts by his father and uncles. A self-made actor, Worthy helps people grow up with freedom of expression, love and faith. He loved his work as a director of "Still Can't Trust No One."
This play is a must-see, especially because it is making its debut at Harlem's National Black Theatre. Tickets are now on sale. With these young, talented folks, the beat goes on!
For more information, visit www.nationalblacktheatre.org.