Tiger Woods composes another chapter in his legendary story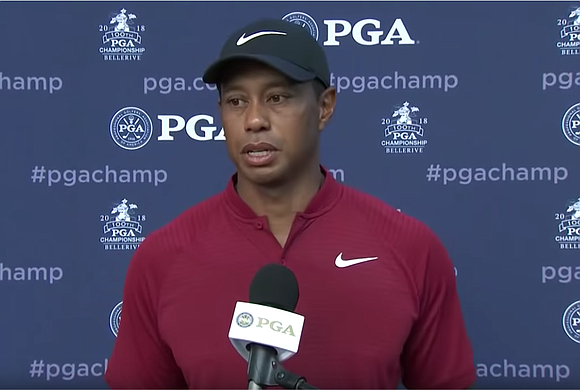 Sports fans are obsessed with lists, persistently debating who are the best five, 10 or even 50 all-time in their respective disciplines.
Is Willie Mays, Joe DiMaggio, Mickey Mantle, Ty Cobb or Ken Griffey Jr. the best center fielder in the annals of baseball? Does Tom Brady or Joe Montana occupy the No.1 spot as the pre-eminent quarterback to ever play? Is Michael Jordan, LeBron James, Oscar Robertson or Kareem Abdul-Jabbar the greatest basketball player to lace on sneakers? What about soccer's icons? Is it Pele, Diego Maradona, Cristiano Renaldo or Lionel Messi who ranks above all others?
In golf, Jack Nicklaus and Tiger Woods are widely considered to stand apart from the other venerated figures of the game that include Bobby Jones, Walter Hagen, Sam Snead and Arnold Palmer. Before debilitating back and knee injuries, compounded by personal demons manifesting in reckless marital infidelity and uncontrollably dangerous use of prescription pain medications, threatened to irreversibly devastate his career, Woods was determined to incontrovertibly establish himself as superior to Nicklaus.
He endeavored to do this by surpassing Nicklaus mark of 18 major championships, the defining yardstick by which golf immortality is measured. Ten years ago, in June 2008, when Woods captured his 14th major at the age of 32 at the U.S. Open, it was a forgone conclusion that he would reach at least 19. But he hasn't won one since. So now he and so many others who follow golf weigh his current success on a markedly recalibrated scale.
That is why Woods second-place finish Sunday at the PGA Championship generated palpable excitement across the sports landscape. It was akin to an aging rock star who seemed no longer capable of working a crowd into a frenzy turning back the clock, summoning one more virtuoso performance and unchaining himself from the albatross of self-doubt.
Woods shot a 14-under par and a 6-under 64 in a pulsating final-round showing at Bellerive Country Club in St. Louis, to finish two strokes behind 28-year-old winner Brooks Koepka, a rising force in golf. Despite Koepka's brilliance at Bellerive, it was Woods, no longer hunting Nicklaus' 18 with the certainty he was in 2008, who was the story.
"I had to kind of figure this out on my own and it's been really hard, a lot harder than people think," he said early Sunday evening. "I'm just very pleased at what I've done so far. ... It's been pretty cool." And to more than a few, unlikely.
The next time Woods will have the opportunity to win another major will be at the Masters next April. Until then, he's a lock to make the U.S. Ryder Cup team that will face off against the European contingent at Le Nacional in Paris, France, beginning Sept. 28. It will be another moment for Woods to affirm that his demise, while justifiably conjectured, was greatly exaggerated.