Trial results for medicine could help sickle cell patients cope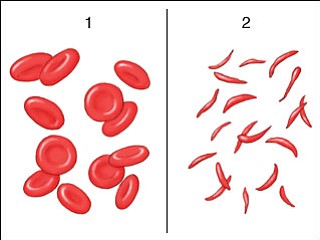 A new study published in the New England Journal of Medicine could spell possible relief for those with sickle cell anemia.
California-based Emmaus Life Sciences, Inc. recently announced that the NEJM published the results of a Phase 3 trial of L-glutamine in sickle cell disease from a 48-week clinical trial evaluating the efficacy and safety of Endari compared with a placebo in 230 adults and pediatric patients with sickle cell disease in the July 19, 2018, issue of the journal.
The study included 230 patients with sickle cell disease. Of the 156 patients who finished the study, 97 received Endari and 59 received the placebo.
Dr. Darrell Harrington, chief medical officer at Emmaus Life Sciences, explained what the drug Endari is and how it could relieve sickle cell patients of some of the pains they experience.
"Endari is a pharmaceutical grade L-glutamine preparation," said Harrington. "L-glutamine is extremely important in the production of NAD. NAD in and of itself is an important co-enzyme that's been identified in the development and protection against oxidation. As far as red blood cells are concerned, this oxidative stress or damage impairs red blood cell shape as well as its adhesion to the blood vessel wall. Therefore, in the presence of L-glutamine, red blood cells are able to circulate more freely without sticking to the blood vessel wall."
The U.S. Food and Drug Administration approved Endari in July 2017 based on safety and efficacy data from this study.
"Compared to placebo group, Endari group had median 25 percent lower occurrence in crisis and 33 percent lower occurrence in hospitalization," said Yutaka Niihara, chairman and CEO of Emmaus Life Science and the study author.
Endari is the first FDA-approved treatment for sickle cell patients as young as 5 and the first in almost two decades for adults. Findings from the study also showed that the drug reduced cumulative days patients spent in the hospital by 41 percent and lowered incidence of acute chest syndrome by more than 60 percent.
"Endari is administered orally, twice daily, and can be mixed with food or drink," said Harrington. "The recommended dose is 10 to 30 grams, based on body weight."
According to the Center for Disease Control and Prevention, sickle cell anemia affects close to 100,000 people in the U.S. and more than 20 million worldwide. It's a hereditary blood disorder that mostly affects people of African descent, as well as those from Central and South America and of Asian, Middle Eastern, Indian and Mediterranean descent. Tionne "T-Boz" Watkins of the R&B group TLC has sickle cell disease, as did the late Albert "Prodigy" Johnson of rap duo Mobb Deep.
There's no universal cure.
"Sickle cell disease affects thousands of people in the United States," said Beverley Francis-Gibson, president and CEO of The Sickle Cell Disease Association of America, Inc., in a statement. "While there is no universal cure for this life-threatening disease, patient awareness and education on treatment options remain important factors for the sickle cell community."