William Leo Hansberry, noted authority of Ethiopian history and culture
Herb Boyd | 8/16/2018, 11:39 a.m.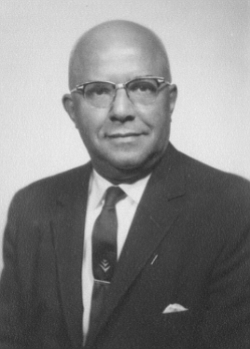 Anytime the renowned playwright Lorraine Hansberry is mentioned, it invariably summons memories of the eminent historian and anthropologist, William Leo Hansberry. Great things might have been expected of Lorraine Hansberry because she was William Hansberry's niece, thereby sharing a common creative genius as they carved out unique intellectual sinecures.
While Lorraine Hansberry is again a topic of discussion with a new biography by Imani Perry, William Hansberry is practically forgotten, except for a few inquiring scholars interested in his pioneering work in Ethiopia and other cultures of antiquity.
Dr. William Leo Hansberry was born Feb. 25, 1894, in Gloster, Miss. The illustrious Hansberry legacy did not begin with William Hansberry, but with his father who was a professor at Alcorn A&M College in Mississippi. When his father died, Hansberry inherited his father's impressive library of books on ancient history, which he read voraciously. As a freshman at Atlanta University, he was prepared with a matchless compilation of information on the great civilizations of Greece and Rome.
His natural historical inquisitiveness inspired a desire to know more about Black Africa and its role in world history, and after reading W.E.B. Du Bois' "The Negro," his curiosity was given additional impetus and the revelations he needed to probe deeper into the African past.
There was, he discovered, a limited supply of books and information on Africa at Atlanta University, and the courses he desired were not available. Thus he chose was to transfer to Harvard University, where he received his Bachelor of Arts degree in 1921 and his Master of Arts degree in 1932.
At Harvard, even as an undergraduate, Hansberry began what would become a lifelong pursuit in the study of African civilizations. His plan was to make that information available in public forums and classrooms, most notably at historically Black colleges and universities. It was at Howard University that the curriculum on African societies was developed, and Hansberry had the platform he had long envisioned.
These courses were soon included in the curriculums of other colleges, largely through Hansberry's crusade and visitations to various campuses, with his inspirational lectures and slide shows of images from Africa and other ancient cultures. In 1925, according to Professor Joseph Harris, who over the years was unstinting in ensuring the perpetuation of Hansberry's legacy, Howard sponsored a symposium on "The Cultures and Civilizations of Negro Peoples in Africa." "This pioneering effort presented 28 scholarly papers by his students, including some from Panama, British Guiana (Guyana), and Colombia," said Harris. "On view at the symposium were fossil finds and various archeological objects. Indeed, Howard University and Professor Hansberry would seem to have been well on the way to carving out a very special niche in African studies."
But despite these apparent accomplishments, the road ahead for Hansberry was hardly smooth. In fact, his achievements and conclusions were challenged by the very administration in which he served, including the university's president. There were rounds of hearings about the veracity of Hansberry's research and findings, as well as his qualifications to teach. In the end, Hansberry prevailed but not without the stress and strain of holding true to his beliefs. One of the outcomes of the disputes was his demotion on the faculty to a secondary position without tenure.