Black woman receives death threats after recording racist white woman at NJ gift shop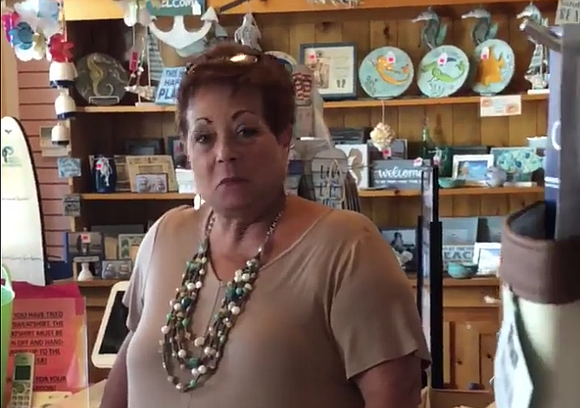 A white female employee at Jenkinson's Aquarium gift shop in Point Pleasant Beach is out of the job after a video surfaced of her kicking out a group of young Black girls.
The incident reportedly took place last week, involving four Black girls aged 12 and 13 from the Princess to Queenz program in Paterson, who were part of a trip to the aquarium. Upon entering the gift shop, the white employee allegedly yelled at them to leave.
"We were told to get out and nobody else was," one of the girls said in an online interview.
The girls were told to leave and get a chaperone, and when they returned with one, they were told to leave again.
Cellphone video of the incident was captured by Attiyya Barrett, who was with the girls. She said that there were other children in the gift shop who were white and unaccompanied. The video has received over 3 million views on Facebook.
"She doesn't want the children to shop in her store because they had to be with a chaperone," Barrett said in the video. "They go get the chaperone, and then she tells all of our girls to leave the store because she doesn't want them there."
When asked why the girls weren't allowed, the white employee replied, "They're not welcome here."
The video was posted on Facebook where it went viral, getting more than 3 million views and calls for the employee to be fired. Barrett said the girls in Princess to Queenz were humiliated and have been constantly talking about what happened.
This week, Jenkinson's Aquarium said in a statement that the employee was fired and that further action is being taken to prevent another incident from happening.
"In our 90-year history, Jenkinson's has always been and will continue to be the place where people from all races, religions, ages, genders and cultures are welcome," the statement said. "We are committed to fostering, cultivating and preserving our culture of diversity and inclusion. Jenkinson's will also be conducting a diversity training program for its employees in the very near future to avoid this type of occurrence in the future."
Barrett revealed on social media this week that she's received death threats and phone calls from people using racial slurs. A GoFundPage has been created to support the Princess to Queenz program.