Amsterdam News Primary Endorsements, Part 1
EDITORIAL | 8/23/2018, midnight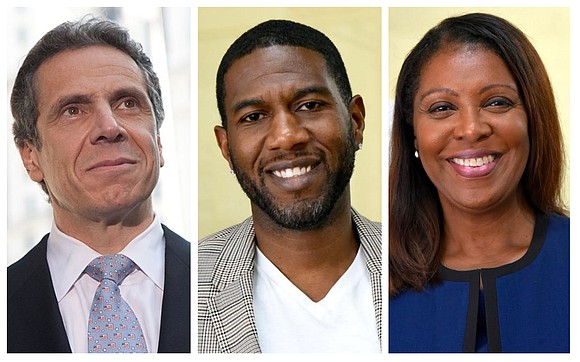 For more than 40 years, the New York Amsterdam News has invited candidates to endorsement meetings the same way, an announcement on the front page of the newspaper. And for those 40-plus years, presidential, gubernatorial, mayoral, senatorial, congressional and City Council candidates alike have come before our editorial board seeking the endorsement of the New York Amsterdam News.
This year was no different. We ran the announcement on the front page of the paper for several weeks and candidates from all five boroughs responded, as did candidates seeking statewide office. Overall the editorial board was quite impressed with the quality of candidates who are running this year and who sought our endorsement. Please remember that the New York State Primaries are being held this year on Thursday, Sept. 13. Our endorsements are as follows:
Governor
The top job in New York State is not an easy one. With hundreds of thousands of employees, a budget of more than $168 billion and a population of approximately 20 million people, governing this state is a momentous task. When we look for a leader, we want someone who is strong, honest, caring, capable, hardworking, experienced and compassionate, and who understands the complexities of the job and can work well with others. 
Well, that is a very tall order. And inherently a lot of those requirements don't fit well together, or at least not that we have found. We have two candidates who are running for the office. One a political novice, the other was born into the business. One comes in on the wave of major victories for progressives, the other runs as a seven-year incumbent. The former has activist experience, is passionate, capable, knowledgeable, compassionate, has a strong work ethic, is honest and comes without political scandal. The latter is experienced, hardworking, understands all too well the complexities of the job, has been saddled with scandal in his second term in office and has proved that he works well with others only when they play according to his rules.  But there is something to say for that experience and the ability to get things done. And Andrew Cuomo as governor certainly has gotten things done. He signed into law the $15 minimum wage, championed the Marriage Equality Act, the Paid Family Leave and the Safe Act.
He has fought against homelessness and launched a plan to increase access to affordable housing.
He has set the nation's highest goal for MWBE procurement at 30 percent. And he has launched an infrastructure investment program of more than $100 billion that has and continues to create jobs across the state, while at the same time modernizing New York's transportation systems (although the MTA still has a lot of work to go).
Although there are some things that we disagree with the governor on, we have to say that he has done a lot for this state and he has accomplished a lot in seven years. But we know he could and should have done a lot more and we are not letting him off the hook. Although we are endorsing him, we know that he did not get to where he is on his own. And if it were not for his challengers, we are not sure he would have moved on some of the issues he has moved on. So we must credit Cynthia Nixon with pushing him on the issues and making him a better governor. And we will continue to push him forward for the next four years to make this state better. We will not sit back. It is our hope that he will once and for all kill the IDC; be a real leader on environmental issues and not play it safe for the sake of votes; protect our youth in prison; and give Raise the Age more teeth and attention. For the Vital Brooklyn initiative, additional dollars must be committed and a real plan for action going forward must be developed, or else it becomes just another plan on paper. And do what is right for the children of the state in terms of the CFE. And in addition, we hope that with another four years he might learn to play a little better with others. With that, we endorse Gov. Andrew Cuomo with the caveat that we are watching.