Aretha Franklin: A personal reflection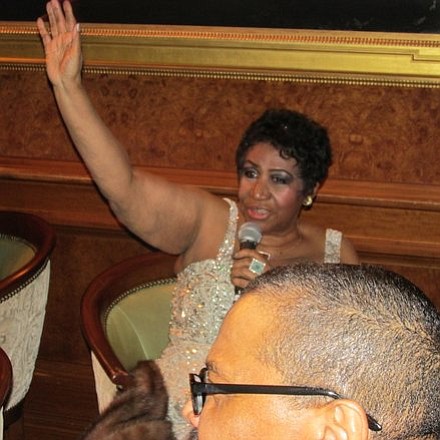 Heartbroken isn't even the word to describe how I feel about the passing of Aretha Franklin. Let me start out by saying that we lost someone who is irreplaceable. No one can take the place of a Queen, which is exactly what she was. Ms. Franklin was one of the kindest and most loving people I've ever met. Her voice only comes once in a generation and touches so many lives.
I first met Ms. Franklin when I was invited to attend a private party for her 70th birthday in 2012 at the Helmsley Park Lane Hotel in Manhattan. The party was so intimate, with only approximately 75 people, including Clive Davis, Diane Sawyer, the Rev. Al Sharpton, Kathleen Battle and Nona Hendryx. I introduced myself to Ms. Franklin during the party and had a brief conversation with her. She was so warm and welcoming and expressed that she enjoyed meeting me. By the end of the conversation, I kissed her on her cheek and she replied, "I certainly hope you come and see me again."
Our second meeting came two years later in 2014, when I interviewed Ms. Franklin over the phone about her last album and upcoming concert. Those of us in the media know that publicists of high-profile celebrities usually connect phone calls and sometimes listen in for interviews. However, to my surprise, Ms. Franklin called me directly for the interview. The conversation was like speaking to a friend. Her humor was something that I can't forget. She spoke so passionately about her music and was very honest with me about who should play her in a movie. The interview was also about her two-night engagement at Radio City Music Hall. At the end of our conversation, Ms. Franklin asked me, "Do you have tickets to come to the concert?"
I replied, "No."
And she said, "Well, I have four tickets for you, and you can bring whoever you want as my special guests."
I was floored. The Queen of Soul herself invited me to see her perform. It was one of the best concerts I ever attended. Aside from her powerful singing, her skill on the piano was what I marveled at the most. She was so gifted in the way she played, it nearly brought me to tears.
My final meeting with Ms. Franklin was in 2015, when I was invited to attend her birthday party at the Ritz-Carlton Hotel in Manhattan. I later learned that Ms. Franklin specifically asked for me to attend, and when the Queen says you need to be somewhere, you better be there! It was a wonderful evening and once again, I was able to speak with Ms. Franklin and give her a peck on the cheek. She told me she was happy that I came to see her again. I will never forget it.
Legends only come once in a lifetime, and I'm so happy to have known Ms. Franklin. As she makes her transition to the essence, I can honestly say that she had the heart and soul of a person who was truly royalty. RIP Ms. Franklin.