Aretha remembered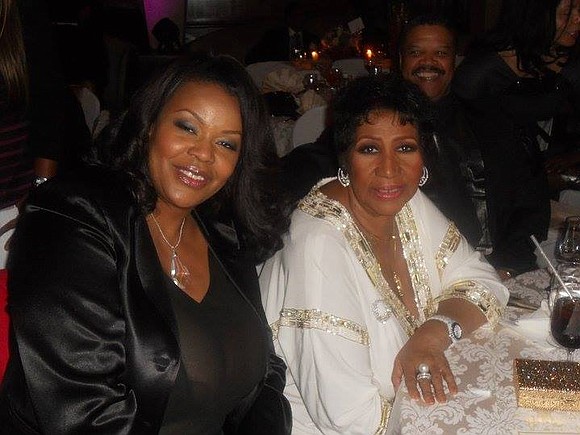 "I hope people remember her courage, the vigil she kept with the truth. In the end she did all of it her way and she was bound in the truth. She never wavered from her principles and what she believed in. That's the most painful part, you're going to miss her, but she left us a legacy that will inspire us to do better. Loved her, loved her!"
Gwendolyn Quinn was Aretha Franklin's publicist from 1997 to 2001, and then in 2002 she started her own company. "Aretha heard I started my own company and she called me," Quinn said. "'I heard you started your own company. I want to sign with you.' And she was my first marquee client. ... I'm her publicist of record."
Quinn recalled, "The one thing I liked and cherished about her was you knew where you stood with her. She was a very generous person with her time and her resources. She brought nice gifts for you, she was always praising the people that worked for her. One of the things I'll never forget is she had performed at Radio City Music Hall and she was saying, so and so is here and then she was thanking certain people in the audience and she thanked me personally. She had them put the spotlight on me and said, 'She's one of the baddest publicists.'
"She was very thoughtful. One of the unique things about being with her was she hadn't had a manager since her brother passed and that was 40 years, so she managed herself. So, as her publicist I had to deal with her directly. I didn't have a buffer. I dealt directly with her on everything. So I always had to figure out 'How am I going to say this to Aretha?' When you talk to an artist you have to select your words carefully. I don't think her death has hit me [yet] because I've been helping the family with making arrangements. There's been a huge outpouring of love for her.
"What I'll miss most about her is her realness. She didn't bite her tongue. I like dealing with people where you know where they are coming from, a lot of people are not like that today. I'm going to miss her coming to New York. She loved to come to New York and go to the theater. She would love going to dinner, seeing the shows, and then having the people from the show come to her hotel room for dessert. She would have a group of us, her Aretha Franklin delegation, and we would go with her to shows. She took me when she was going to perform for the pope. She took you places only a queen could take you. I think I'm just going to miss her. I'm so glad she got the love outpouring and support, she deserves it. She was a down to earth diva."
Barbara Harris, Franklin's publicist early on in her career, spoke affectionately of her friend. "I met Aretha when I worked for Ruth Bowen at Queen Booking. She booked Aretha over 40 years. I met her maybe '67, '68. She walked in one morning with her husband Ted White. She was an adorable person, size 6/8. She was quiet and shy. Then I worked as a publicist at Atlantic Records from 1969 and our paths crossed again. I worked with her in the early '70s-'72 or '73. She was very quiet and very shy, but a talent beyond words. There will never be another person like Aretha. And the coverage and tributes she's been getting since she passed are just amazing. She is revered all over the world.