Community Calendar August 23 - August 29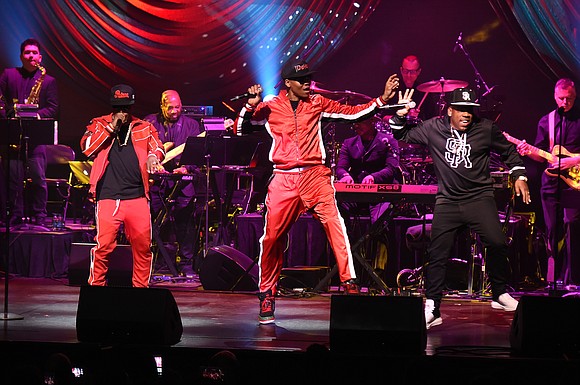 FILM
"Whitney," an in-depth look at the life and music of Whitney Houston. At select theaters.
"BlacKkKlansman," an incredible true story. A Spike Lee Joint. In theaters Aug. 10. Check listings.
"King of Stage," the story of New Federal Theatre's Woodie King Jr. will be screened Thursday, Sept. 6, at 6 p.m., at Nuyorican Poets Café, 236 E. Third St., between Avenue B and Avenue C. For tickets, visit nuyorican.org or kingofstage.info.
COMEDY
Tracy Morgan, Saturday Sept.1 at 7 p.m. and 9:30 p.m., Nyack Levity, 4210 Palisades Center, Dr A-401, West Nyack, N.Y. For ticket information, visit:ticketmaster.com.
Leslie Jones, Wednesday, Sept. 5, through Saturday, Sept. 8, at Carolines on Broadway, 1626 Broadway, New York, N.Y. Visit ticketmaster.com.
Trevor Noah, Friday Sept.7 at 7 p.m., New Jersey Performing Arts Center, 1 Center St., Newark, N.J. Visit ticketmaster.com.
EXHIBITIONS
The elegance and intelligence of former First Lady Michelle Obama is on view at Harlem's Dwyer Cultural Center through Aug. 26 in a dramatic dot mosaic portrait created by artist Lennox Commissiong. The portrait is part Commisiong's "Wizard Hands" exhibition, which also showcases dynamic portraits of cultural legends such as Tupac Shakur, Bob Marley, Muhammad Ali and Thelonius Monk. The exhibition is on view throughout Harlem Week at the Dwyer Cultural Center, 258 St. Nicholas Ave., Fridays from 5 p.m. to 8 p.m. By appointment at thedwyccc@gmail.com.
COMMUNITY
Harlem Week 2018—"Women Transforming the World: Past Present and Future." Subtheme, "The Community Within the Community," recognizing and celebrating the LGTBQ community.
Still to come: Summer in the City, Family Festival, Uptown Saturday Night, Harlem SummerStage/Jazzmobile at Grant's Tomb, Friday Nights Out/5K Run, Children's Run and Health Walk, Restaurant Week in Harlem, Sunday Gospel Services, International Art Exhibit. Call 877-427-5364, visit iloveny.com/HarlemWeek or visit harlemweek.com.
Two modern day female warriors, Judge Nichelle Johnson Muhammad, acting chief of staff at the Corporate Counsels Office in Mt. Vernon, N.Y. and Dr. Tyrene Wright, professor at Medgar Evers College, author and activist, will grace the stage at CEMOTAP Center, 135-05 Rockaway Blvd., Queens, N.Y., Saturday, Aug. 25, at 2 p.m. to tackle the topic, "Ignored and Overlooked: Black Women's Heroism Throughout History." The public is invited. Admission is free.
The International African Arts Festival (IAAFestival), in conjunction with the National Association of Kawaida Organizations (NAKO), will host a slide show and lecture with Dr. Christopher Williams, entitled, "Africans in China," Sunday, Aug. 26, 2018, from 3 p.m. to 5 p.m. at Restoration Plaza, 1360 Fulton St., Brooklyn, N.Y., at the IAAFestival office, Room 401. Space is limited, so please RSVP. A suggested minimum donation is requested. For more information, call 718-789-3264 or 718-638-6700. Visit www.iaafestival.org. 
Tune in to 107.5 WBLS-FM weekly for "Express Yourself," Sunday evenings from 7 p.m. to 9 p.m. and simulcast over WLIB 1190AM. The full show can also be heard on HD radio at WBLS-HD2 and at WBLS.com., WLIB.com and iHeartRadio. IGB is also heard on WBAI-FM 99.5 with Radio GBE: "The Global Black Experience" and "The Global Beat Experience," Fridays 6 p.m. to 8 p.m. Archived online at www.wbai.org. For bookings or to reach us about your GBEvent or for comments, email co-editor Nyerere, nyerere1@aol.com, find us at Imhotep Gary Byrd on Facebook or call 212-592-3279.