Dorothy Van Engle, a gorgeous and talented actress
Herb Boyd | 8/23/2018, 5:52 p.m.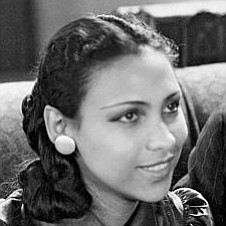 Near the end of director/producer Oscar Micheaux's film "Swing" (1938), Dorothy Van Engle delivers an intimidating look that dares a man to pilfer from her friend's purse. Despite a beauty that was a combination of Dorothy Dandridge and Lena Horne (and the character she portrays is Lena), Van Engle had a collection of expressions from the ingénue to the loyal and dutiful facilitator and "Girl Friday."
There are moments in the film, which is jammed with several vibrant musical scenes, when you wish Van Engle would break out in song or show off a few dance steps.
Her good looks and consummate acting skills made her a favorite of Micheaux, and she was featured in several of his most significant films, including "Harlem After Midnight" (1934), "Murder in Harlem" (1935) and "God's Step Children" (1938). Having her in his Harlem-related films made perfect sense because Van Engle who was born Donessa Dorothy Van Engle in Harlem Aug. 14, 1910, although other dates have also been reported. Many critics insist that she was a pleasant and alluring counterpart to Micheaux's often controversial and offensive point of view, a subject that was endlessly debated.
Not much is known about her early years coming of age in Harlem as the fabled Renaissance flowered, but given her cultural interest and perspicacity, she certainly was aware of its impact on the literary and entertainment aspects. That literary element would later manifest itself at the end of her life, when she left the world of film for the library.
What was certainly clear was Micheaux's pioneering work as a filmmaker and his choice of leading ladies, providing them with roles of substance and integrity that was revolutionary in the '20s, '30s and even the '40s. From the moment he laid eyes on Van Engle when introduced to her by her stepfather, Arvelle Harris, a saxophonist in Cab Calloway's band, he was smitten.
Micheaux wasn't the only one captivated by Van Engle's beauty. She was in demand as a model, and her elegance and glamour were used to sell an array of products for the hair and skin. Along with modeling, she was a seamstress, and most of the dresses and gowns she wore in films were her own creations. Micheaux, it was reported, did not have the budget for costumes.
Van Engle, said J. Ronald Green, an authority of Micheaux's film career, "played extremely positive roles for women."
He added, "It was a kind of a proto-feminist role. Her characters were created to be strong, intelligent, competent women and that's exactly the way she came across."
Because of this unwavering demeanor, she was very popular, and Black filmgoers flocked to her films. Her films and other race films, Green added, "provided the only positive image of Blacks available in the movies."
If there's any saving grace in "Murder in Harlem," it's the close-up shots of Van Engle's gorgeous face and her sleuthing that unravels the murder. The film is just another example of her not only being lovely to look at but also having a clever and intriguing mind.