Dorothy Van Engle, a gorgeous and talented actress
Herb Boyd | 8/23/2018, 5:52 p.m.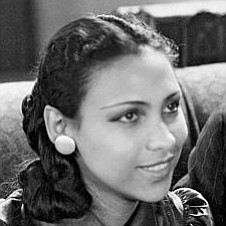 With Van Engle in front of the camera and Micheaux behind the camera, they were a formidable pair, but unfortunately when Micheaux was no longer making films by the '50s, Van Engle's visage disappeared from the screen and she was rarely heard of or from again.
From the accompanying photo, you can see how stunningly attractive she was and why she often called the sepia Myrna Loy or Hedy Lamar, two of the many Hollywood star of matchless beauty. She also can be compared with these Hollywood immortals in her portrayals, which were always done with total professionalism and respectability. In "Swing," her devotion to the leading lady is typical of the care and concern she brought to a role, one that was sensitive without being obsequious. No matter the part, there was always a radiant, luxuriant aura, a warm and affectionate quality that kept your eyes glued to her every move.
Another man who watched her with keen eyes was her future husband, Herbert Hollon, and when they married in the '40s she dedicated herself to him and raising a family, including two sons. Her husband predeceased her in 1992.
According to her cousin, Edna Turner-Degeneste, Van Engle never looked back after leaving films but worked for the library system in Port Charlotte, Fla. up until the end of her life. Curiously, none of the filmmakers of the '40s and '50s deigned to cast her even though she would have fit perfectly into the barrage of films in which the tragic mulatto was the focus. But her distaste for those films might have been the reason she vanished from the screen and chose instead to make her appearance in the stacks of library books.
Van Engle-Hollon died May 10, 2004, in Ocala, Fla. after moving from Port Charlotte, Fla.