Long live the 'Queen of Soul,' Aretha Franklin
Herb Boyd | 8/23/2018, midnight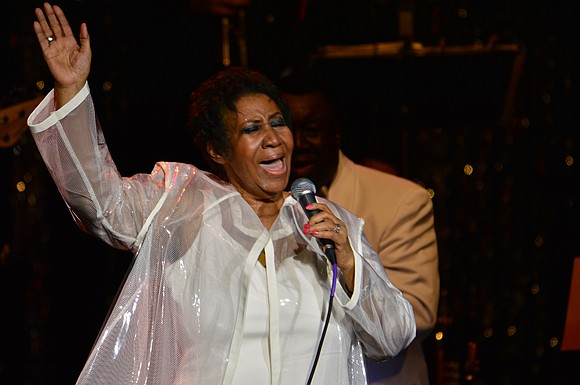 Aretha Franklin, the Queen of Soul, will be remembered mainly for her heavenly voice, which Aug. 16, joined the angelic choir not too far from Mahalia Jackson and Clara Ward, the latter who mentored Franklin and was the companion to her illustrious father, the Rev. C.L. Franklin. The encomiums and praise songs will arrive with a relentless flow, and rightfully so for a singer beyond category who converted sacred songs to secular and secular songs to sacred anthems. For more than six decades, beginning when she was 14 and ending at 76 are vital statistics that provide but a glimpse at her enduring legacy.
And these numbers are bolstered by the 18 Grammy Awards, a plethora of Top Ten Hits and awards up the wazoo, including the Presidential Medal of Freedom (2005), Kennedy Center Honors (2015) and first woman inductee in the Rock and Roll Hall of Fame (1987). Indeed, the commendations almost match her extensive musical chronology, in which each song marks a milestone in the American experience.
Born March 25, 1942, in Memphis, Tenn., Franklin was raised in a household that was second only to the pulpit in the inculcation of the gospel. She inherited her father's thundering, mellifluous voice that could convert a sermon to song and lift a congregation from the pews with "The Eagle Stirreth Her Nest," and other venerable recordings. Her mother, Barbara Siggers Franklin, who died when Aretha was 10, gave a portion of her DNA to her daughter's melodious whoops and sermonettes.
Whether at the piano or soloing in front of her father's choir, Aretha's prodigy was prodigious and when she recorded her first album for Joe Von Battle's (JVB) label, "Songs of Faith" (1956), she was gradually becoming less a member of New Bethel Baptist Church, less a possession of Detroiters and belonging more and more to the world. Making her recording debut with JVB was logical and convenient because her father had already made the label popular.
She burst comet-like on the scene at the same time Berry Gordy was making his impressive mark in the music industry with Motown records. The question is often asked why Franklin wasn't part of the retinue of musicians assembled by Gordy. That was mainly her father's decision. The Rev. Franklin, guiding her from gospel to crossover, much like the transitions that had been made by Ray Charles and Sam Cooke, wanted her on Columbia Records, where Mahalia Jackson, Duke Ellington, Johnny Mathis and Tony Bennett were sequestered.
"Berry Gordy was cool," Cecil Franklin told David Ritz in his biography "Respect: The Life of Aretha Franklin" (Little, Brown & Company, 2014). "Berry Gordy had written some good songs, Berry Gordy had signed Smokey, and Smokey and his Miracles were great, but you couldn't begin to compare Berry to Columbia."
So, in effect, Franklin's father was her first manager, and he placed her in the capable hands of John Hammond, the visionary producer who oversaw her first recordings on the label. Hammond had just rejoined the label in 1958, when he was given a demo of Franklin singing "Today I Sing the Blues." He listened and said, "This is one of the best things I've heard since Billie Holiday. Who is she? Someone said she's some girl from out of Detroit. It took me about two months to track her down. I did two albums with Aretha. The first album is the one I'm proud of."