Long live the 'Queen of Soul,' Aretha Franklin
Herb Boyd | 8/23/2018, midnight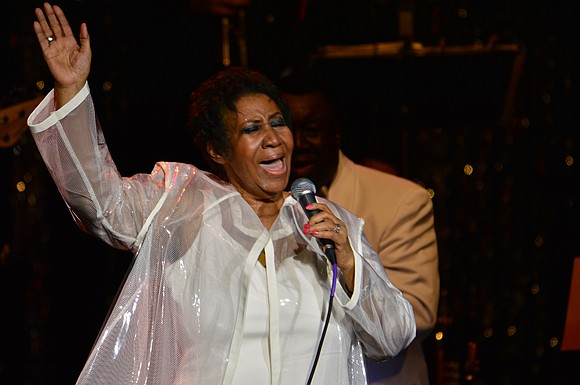 But her seven years, nine singles and nine albums with Columbia did not get her to the top of the charts as she and her father had envisioned. She hit pay dirt and national acclaim when she signed with Atlantic Records in 1967, with producer Jerry Wexler at the toggles. Otis Redding had done one rousing interpretation of his song, but Franklin took "Respect," which was included on her album "I Never Loved a Man (The Way I Love You)," to another level of cultural appreciation and political significance. In Wexler's words, she "turned it inside out, making it deeper, stronger, loading it with double entendres." The song, Wexler added, "resonates on a number of levels and lives on."
Perhaps if not for the prominence of "Respect," Franklin's version of "(You Make Me Feel Like) A Natural Woman" would be her signature song, although there are several other bluesy contenders for this spot. Again, the ever resourceful and cogent David Ritz from "Respect" summarized the song composed by Carole King and Gerry Goffin. They situated the song in a romantic context, Ritz wrote, but "Aretha, however, took it to church. She told interviewers that she heard the song as a prayer. She was praising and singing to the Lord. When her soul was in the lost and found, it wasn't a man who claimed it, it was God." It was also her fourth Top 10 hit of 1967 (No. 8) and appeared on her album "Lady Soul" (1968).
The assassination of Dr. Martin Luther King Jr. was a special loss for Aretha. Dr. King was a close friend and associate of her father, and they marched together in Detroit in 1963. That was a fundraising event for the Civil Rights Movement and set the stage for the historic march in the nation's capital that following August. There was no other song but "Precious Lord" or singer at Dr. King's funeral, but Franklin apparently had no memory of the song or the event. If she didn't recall her efforts in raising money for the Poor People's Campaign, her brother, Cecil, did because he was the chair of the Detroit branch of the campaign.
Franklin's social and political commitment had no boundaries, and she often upset her managers and company executives, especially after promising to do a concert date to raise bail money for the imprisoned political activist Angela Davis. Once, while watching local television in Detroit, she saw a woman grieving after losing her home to a fire. Franklin found out who the woman was and her address and made out a check for $30,000 to help the woman recover from the devastation. That was just one instance of her charity and generosity, and the Queen of Soul could have very well been called the Diva of Devastation.
As the nation withered in turmoil and an urban crisis swept the land, Franklin with such Top 10 hits as "Bridge over Troubled Water," "Chain of Fools" and "Rock Steady" provided a rhythmic sound track that by 1972 took her back to her gospel roots with "Amazing Grace." Her return to the church was greeted with hallelujahs and hosannas from coast to Pentecostal coast. And with one of her mentors, James Cleveland, conducting the Southern California Community Choir, she was back to her glorious and seminal beginning.