Talking SCHOP! Celebrate food, Opry style!
Kysha Harris, Food Editor, @SCHOPgirl | 8/23/2018, 3:39 p.m.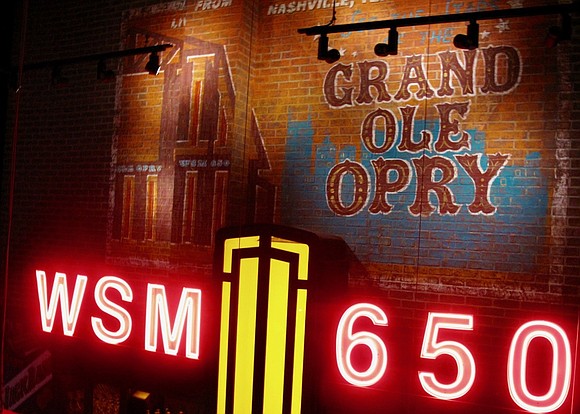 I was invited down to the Times Square area to experience the extrapolation of Nashville's historical musical legacy, "The Grand Ole Opry." The closest I have been to the city or the Opry was through the television show "Nashville." I was intrigued, so off I went into the tourist fray.
Together with my ace, Jason, we walked into the multilevel Opry City Stage (@OpryCityStage, 1604 Broadway, 212-388-5565, www.oprycitystage.com), passing an employee busking, inviting people in. Meeting the host one flight up, I was pleasantly surprised by how grand it was inside with its two-mezzanine seating and large bar, all facing the stage flanked by two large screens.
We were seated in a booth on the first mezzanine right in front of a Taylor Swift gold sequins dress and Garth Brooks' black cowboy shirt. OK, it did feel a little like a country Hard Rock Café, but modernized and honest. Noticing the ample seating, I was glad we were there on a Monday night.
Our server, Tatiana, was very knowledgeable and patient with our (OK, my) obsessive food decision making—but first we drink! I could not get enough of my Bluegrass Breakdown of cucumber-infused gin with St. Germain, lime and mint. Jason's hibiscus margarita took his Times Square jitters away.
Now we were ready to order. We started with fried green tomatoes with remoulade and smoked jumbo wings. Then, because this Friday, Aug. 24, is National Waffle Day, we moved on to share the infamous Nashville Hot Chicken & Waffles. Baby, that crispy chicken had my nose running, but I sniffled through. Thank goodness for that waffle and maple syrup!
Jason thought the cool grilled chicken Gulch Cobb with black-eyed peas would be a nice foil to that hot chicken—with a side of bacon! Don't judge! You will do it, too, Saturday, Sept. 1, when Opry City Stage celebrates National Bacon Day with free bacon with any menu purchase! Yup!
Stuffed but not enough to miss dessert, Jason and I shared their hummingbird cake of banana cake, cream cheese frosting, pecans and pineapple coulis. I was in Heaven with every bite as the Citigrass band played live.
Jason was so motivated after our meal, he picked up a hat and T-shirt from the gift shop downstairs while I looked at the family picture wall that included James Brown, Darius Rucker and Charlie Pride. A selfie with the Dolly Parton cutout had to be taken.
Thank you, Opry City Stage! I am going to make it to Nashville one of these days. Until then, there is you.
Happy eating and thanks for reading!
Kysha Harris is a food writer and editor, culinary producer, consultant and owner of SCHOP!, a personalized food service in NYC for more than 15 years. Follow her on Twitter and Instagram, @SCHOPgirl, on Facebook, /SCHOPnyc, and her blog, www.talkingSCHOP.wordpress.com. Questions? Comments? Requests? Feedback?  Invitations!  Email AmNewsFOOD at AmNewsFOOD@SCHOPnyc.com. Follow us on Instagram, Twitter and Facebook @NYAmNewsFOOD and tag us with #SoAmNewsFOOD with your food finds!