Kofi Annan, 80, first Ghanaian to lead U.N., dead
SAEED SHABAZZ | 8/23/2018, 5:29 p.m.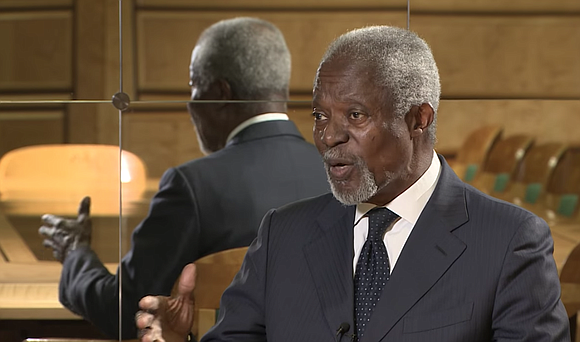 Ghana's President Nana Akufo-Addo declared a week of mourning to pay homage to former U.N. chief and Nobel laureate, Kofi Atta Annan.
Annan, 80, a Ghanaian diplomat served as the seventh United Nations Secretary-General from January 1997 to December 2006 and was awarded the Nobel Peace Prize as a co-recipient along with the U.N., died Aug. 18 after a short illness in Switzerland, according to the Kofi Annan Foundation.
Annan became the first sub-Saharan African to hold the post of U.N. Secretary-General, according to USA Today. The world-renowned diplomat was born in 1938 to a "prominent family in Kumasi, Ghana's second largest city." He was the son of the governor of the Ashanti province under British colonial rule. He attended schools in Ghana, Switzerland and the United States.
He started his career with the U.N. at 24, working as an administrator at the World Health Organization. Rising quickly through the ranks, he served as head of personnel for the U.N. mission in Cairo, Egypt, deputy director of United Nations High Commission for Refugees in Geneva, Switzerland, and deputy U.N. secretary-general and undersecretary-general for peacekeeping.
"Kofi Annan was a guiding force for good," stated U.N. Secretary-General Antonio Guterres in a press release. "It was with profound sadness that I learned of his passing. In many ways, Kofi Annan was the United Nations. He rose through the ranks to lead the Organization into the new millennium with matchless dignity and determination."
Guterres added, "He [Annan] provided people everywhere with a space for dialogue, a place for problem-solving and a path to a better world. In these turbulent and trying times, he never stopped working to give life to the values of the United Nations Charter. His legacy will remain a true inspiration for all of us."
U.S. Ambassador Nikki Haley said, "Kofi Annan devoted his life to making the world a more peaceful place through his compassion and dedication to service."
"People were happy at the U.N. when Annan was appointed secretary-general, and as Africans we were extremely happy," Mampela Mpela, from the African nation of Lesotho and a retired U.N. staff member told the AmNews. Mpela was the head of U.N. Photo and president of the U.N. Staff Union beginning in 2001.
She remembers two instances during Annan's tenure when African staff members stood up for the two-term secretary-general. "We would not allow a vote of 'no confidence' against Annan that was being pushed by some staff members," Mpela said. "We as Africans did not want Annan to be the first secretary-general with a vote such as that on his record."
The second time, according to Mpela, was when African staff members quietly prevented a movement in the U.N. organization to get Annan to openly condemn President Robert Mugabe for his land reform program. "Having Annan as secretary-general was a psychological plus for Africans at the U.N.," Mpela said.
Mpela added, however, there is still the cloud of the 1994 Rwandan Genocide, when an estimated 800,000 members of the Tutsi ethnic group were slaughtered in a 100-day rampage by Hutu soldiers and ordinary citizens. Annan was chief of U.N. Peacekeeping at the time, and over the years some observers question whether he withheld information concerning the bloodshed in Rwanda.