Kofi Annan, 80, first Ghanaian to lead U.N., dead
SAEED SHABAZZ | 8/23/2018, 5:29 p.m.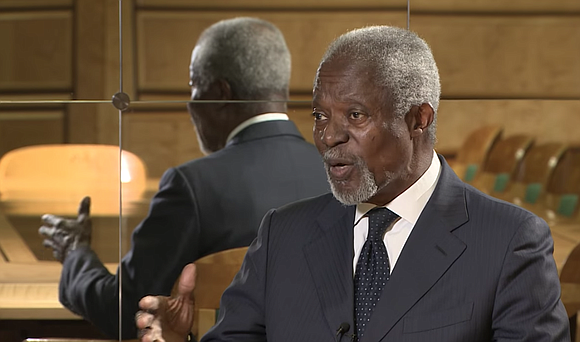 According to The Washington Post, Annan in a 2004 PBS "Frontline" interview called the Rwandan Genocide "a very painful and traumatic experience, both for himself and the U.N."
Gilbert Johnson, president of the American Federation of State, County and Municipal Employees Local 82 in Wisconsin amplified Mpela's position concerning the Rwandan Genocide and Annan's responsibility in not alerting the U.N. In a Facebook message to the AmNews he said "Annan left behind a complicated legacy when he died. The Nobel Peace Prize Laureate managed to in some ways to make progress in Africa in his time leading the U.N., but many saw his failure to intervene in Rwanda beforehand as inextricably inter-twined with his later accomplishments."
Bill Fletcher Jr., a racial justice and international labor activist explained to the AmNews that Annan believed that he could bring reform to the U.N., which might have something to do with the fact that observers point to his inability to get the U.S. on board in dealing with the reality of the Rwandan Genocide and his trying to prevent the Iraq War, which was not sanctioned by the 15-member U.N. Security Council.
"The problem with every secretary-general is that they try to build a consensus at the world body, which is almost impossible because of the way the U.N. was originally constructed," said Fletcher.
Some observers say that Annan continued his global diplomatic work as a member of The Elders, an independent group of global leaders committed to advancing the cause of peace and promoting human rights around the world.
In a press release emailed to the AmNews, The Elders noted, "In retirement, Kofi Annan continued where he left off at the United Nations, founding and leading the work of the Kofi Annan Foundation, based in Geneva, and maintaining a hectic international schedule. His quiet advice on how best to defuse impending crises was in constant demand from all corners of the globe, in particular from Africa." The group was founded by Nelson Mandela in 2007.