Davis Webb shows promise as a successor to Eli Manning
JAIME C. HARRIS | 8/24/2018, 11:24 a.m.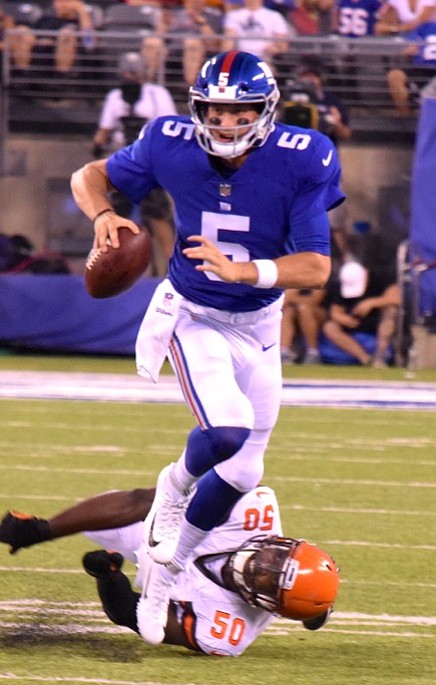 For many Giants fans, Davis Webb is an afterthought. They have little tangible evidence or a large enough sample size to reasonably determine if he has the physical and mental necessities to succeed Eli Manning as the Giants starting quarterback in the near future.
Yet, many have already imprudently dismissed the 23-year-old Webb as the franchise's next long-term starter under center primarily because he did not enter the NFL as a ballyhooed high first-round prospect, as did the Jets' Sam Darnold, who was the third overall pick in April's draft.
In fact, a plethora of Giants devotees hungered for the organization to select quarterbacks Darnold, Josh Allen or Josh Rosen instead of running back Saquon Barkley. Allen was taken by the Buffalo Bills at No.7 and Rosen went to the Arizona Cardinals at No. 10. Conversely, after a strong college career, spending three years at Texas Tech and concluding his senior season at the University of California, where he threw for 4,295 yards and 37 touchdowns, Webb was drafted by the Giants in the third round —the 87th overall pick— in 2017, the fifth QB chosen in that draft.
The 6-foot-5, 230-pound native of Prosper, Texas, showed some of his potential in the Giants' second preseason game of the 2018 season Friday against the Detroit Lions on the road. Starting the game as the Giants sat out Manning, Webb was 14-20 for 140 yards and one touchdown. He exhibited arm strength, movement in the pocket and a grasp of the offense after a subpar performance against the Cleveland Browns the prior week.
"I think he made improvements between last week and this week," said Giants head coach Pat Shurmur regarding Webb. "He engineered a scoring drive, which is important. So, yeah, he had a much better night."
Playing with the Giants starting unit was an evident benefit to Webb.
"I was just excited to be with the first guys," he said after leading the Giants to a 30-17 victory. "Having Nate Solder in there, Sterling Shepard [and center] Jon [Halapio] directing the traffic. My buddy Evan [Engram] and Rhett [Ellison] making plays. It was a lot of fun being with those guys, I think they played their butts off tonight and all the credit goes to the offensive line for having some protection."
Webb isn't expected to see much time, if any at all, this season unless the heretofore indestructible Manning suffers a serious injury. So any actual game snaps are invaluable at this stage of his development.  
There is an obsession with and glorification of NFL quarterbacks that contradicts facts. Every team's goal is to win a Super Bowl, not just be a consistent playoff contender. A glaring misconception is an organization must have what has long been commonly referred to as a franchise quarterback to win one or even multiple Super Bowls.
However, possessing a great quarterback does not ensure Super Bowl appearances or wins. Drew Brees and Aaron Rodgers are compelling examples of this assertion.
Both are considered among the best QBs in NFL history. Brees is third on the league's all-time passing list with 70, 445 yards, and Rodgers, a two-time NFL MVP, is viewed by many astute observers of football as the most physically gifted quarterback ever.
But in 30 combined seasons, 17 for Brees and 13 for Rodgers, they have a total of two Super Bowl wins, one for each. A good quarterback, superior defense, solid offensive line and strong running game is still the most proven formula for success. The Philadelphia Eagles, with Nick Foles starting every postseason game in place of injured starter Carson Wentz, won last season's Super Bowl employing this blueprint.
So did the Giants in winning Super Bowls XXI and XXV. Maybe Webb won't evolve into an elite quarterback, just one who can steer the Giants to another Super Bowl title.