The Jets' quarterback story is still the most interesting, sexy one
VINCENT DAVIS | 8/24/2018, 11:30 a.m.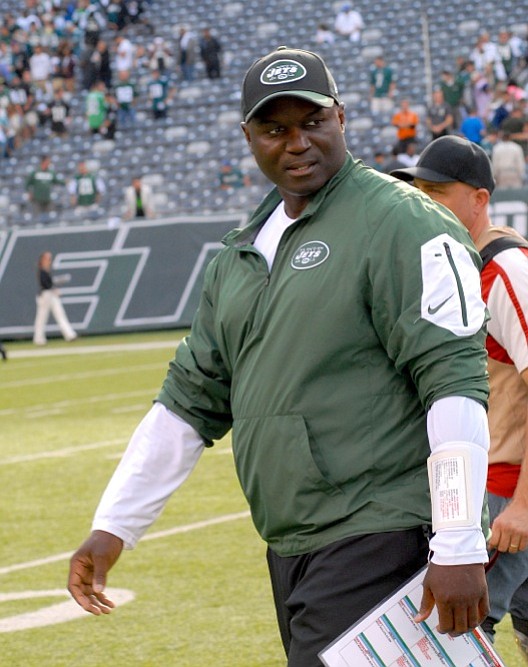 There are so many stories, concerns and interests that involve this new season for the New York Jets. Their front line, wide receiver Quincy Enunwa, corner Trumaine Johnson and safety Marcus Maye; their secondary; communication between players on defense; the personality of their D; their tight end situation; the new helmet rule that is a NFL story; and also their kickers. But the story of interest, the sexy one, is the Jets' quarterback situation. The helmet rule is a close second.
On their roster is the elder veteran, Josh McCown, in his second season with the Jets. And there's Teddy Bridgewater, the former Minnesota Viking signed in March by the Jets after coming off an injury that sidelined his burgeoning career for the past two seasons.
"He is everything as advertised with him," stated Todd Bowles, the Jets' head coach, about Bridgewater's return. "You love the person; you love the player. He does everything the right way."
And then there's Sam Darnold, drafted with the Jets third pick in the first round in April's draft. 
That is not the uncertainty that existed with having to make decisions regarding Christian Hackenberg or Bryce Petty, or even Geno Smith. Quarterbacks gone, and not forgotten, but not for their success as Jets players. 
McCown and Bridgewater have the ability to start and lead this team. Because of the high cost to the Jets to move up in the draft to the three position to select Darnold, it's believed, understood, that he's their future—the quarterback that the team will be built around, the new face of the Jets, their Eli Manning, their Ben Roethlisberger. Darnold fans believe he should start, get in there and learn from Day 1.
"All three quarterbacks need to be ready to play," stated Bowles as he gets the team ready for their third preseason game against the New York Giants tomorrow night (Friday) at MetLife Stadium. 
"All three, equally, have developed a great rapport with Jeremy, of how he wants things done and how he calls things, and they feed off him." 
Jeremy is Jeremy Bates, the Jets' new offensive coordinator, who Bowles speaks very highly of, happy with the rapport that he's developed with the team's three QBs. He'll be on the field calling plays from the sidelines this season, which Bowles prefers, not from the box during games. 
"When they come off the field [the players], you can grab them, and you can talk to them and you can explain what you saw, a little bit better," said Bowles. "Up in the box, you have to be calmer because you can't yell at anyone because no one can hear you. On the sidelines, you can kind of vent your frustrations, and be right there and snatch them when they get off."
Confounding Jets players, the league's players and officials is the new NFL helmet rule that prohibits players from lowering their head to initiate contact on tackles. It's causing just about everyone to vent. Richard Sherman, cornerback for the San Francisco 49ers posted several tweets about his objection to it:
"To all those people including those who made the rule. I want a video of you running full speed and being led by anything but your head while also attempting to bring down a moving target.  You will soon realize it's impossible."
Bowles, a defensive specialist thinks that it's going to be a big adjustment period with a lot of room to grow. "There's a lot of bang-bang plays, and it's always going to be a problem with who initiated the contact." he said.
Sherman was more to the point, not at all diplomatic. "The rule is idiotic and should be dismissed immediately," he also tweeted, further stating that the NFL is becoming a flag football game.