Liberty finish worst-ever season
LOIS ELFMAN | 8/24/2018, 11:37 a.m.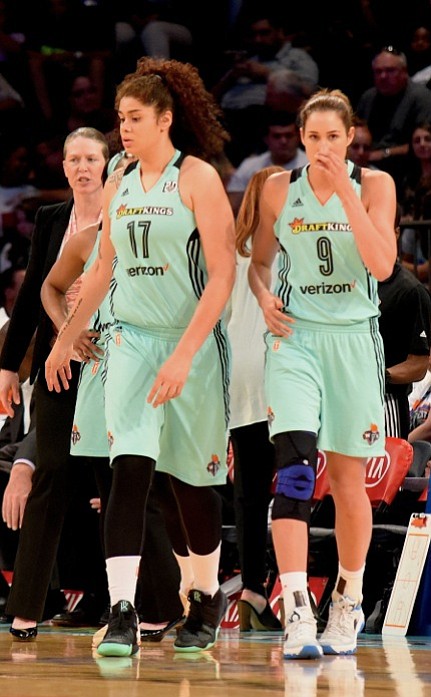 The New York Liberty knew heading out on a grueling four-game West Coast road trip that the team was already out of playoff contention. Beset with injuries—even Tina Charles missed a game because of back spasms—there was little chance for redemption. The final game was a 96-85 loss to the Phoenix Mercury, ending a 7-27 season with a 13-game losing streak.
The future of the Liberty is remains to be seen. Last November, the Madison Square Garden Company revealed its intention to sell the team, but in February announced it would operate the Liberty this season. The catch was home court would not be Madison Square Garden. Rather, the team played all but two of its home games at the Westchester County Center—a cost-effective but unfortunate option that left longtime fans out in the cold and had the team playing for fewer than 2,000 people at most games.
Did the team falter because of its location? Going from the Mecca of basketball to a small venue outside of New York City had to have an impact.
The Liberty has not had the meaningful attention it needed to flourish. Over the years, fans were often treated with disregard and the media as an inconvenience. Although that has significantly improved, many fans and some major outlets have not returned.
It was easy for Liberty ownership to be complacent in the early years of the WNBA. The novelty of a women's pro league playing in NBA venues brought a rush of excitement and interest. In New York, players such as Sue Wicks, Teresa Weatherspoon and Kym Hampton, who had played professionally overseas for years, were exhilarated by the chance to show their moves in the U.S. The Liberty made the WNBA Finals four times in the league's first six years.
Then there was a shift. Early fans drifted away. Ill-conceived trades deprived the Liberty of essential first-round draft picks. Player housing was moved to Westchester. Free agency sent players running to new destinations.
New York City native Tina Charles gave the team a restart, but it hasn't been enough. Charles deserves absolute praise for driving a new sense of purpose, but it wasn't her responsibility to recreate team operations.
What's next? In all likelihood an announcement will come within a few weeks. If a buyer cannot be found, hopefully the WNBA will step in to keep a team in New York City. Either bring the Liberty back to Madison Square Garden or situate it at the Barclays Center. The new owners must be innovative and create a winning culture that includes the players, coaches, management, support staff, fans, corporate sponsors, local businesses and media. Glory is within reach, but it requires a decidedly new approach.