Giants show OBJ the money, and now it's time ball out for the receiver
JAIME C. HARRIS | 8/29/2018, 6:47 p.m.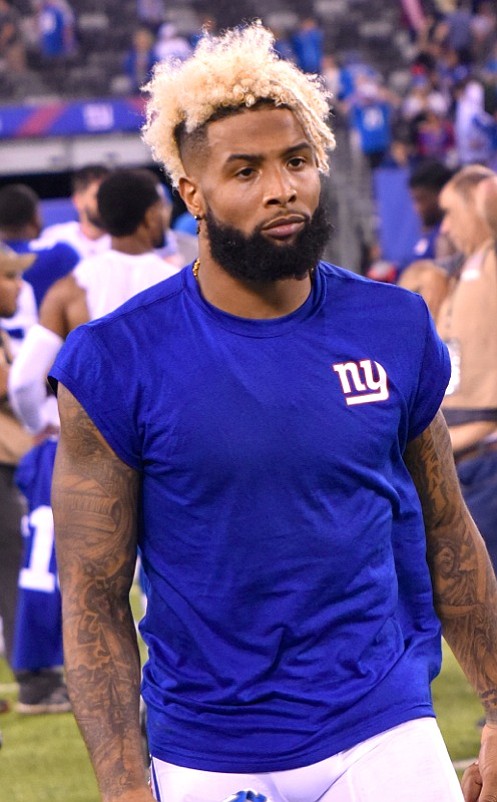 In the iconic 1996 movie "Jerry McGuire," starring Tom Cruise and Cuba Gooding Jr., Gooding plays fictional enigmatic Arizona Cardinals wide receiver Rod Tidwell, whose primary motivation is to secure a lucrative multimillion dollar contract.
While having a phone conversation with his agent, McGuire, played by Cruise, with rap music blaring in the background, Gooding dances in his kitchen and exuberantly screams into a phone a phrase that famously became part of the American lexicon: "Show me the money!"    
Sunday, the Giants showed their own indecipherable receiver the money he fervently coveted, signing Odell Beckham Jr. to a five-year, $95 million contract extension, with the highest fully guaranteed amount ever for a wide out at $65 million. Now in his fourth year in the NFL, the $20 million Beckham will average in the first three years of the deal surpasses the previous mark of $17 million per year paid to the Pittsburgh Steelers' Antonio Brown and the $55 million in guarantees held by the Tampa Bay Buccaneers' Mike Evans.
"This is kind of just something that you get out of the way," Beckham said of his extension Tuesday. "Honestly, it sounds crazy enough, but I don't think I've done anything really since I've been here. I have goals for myself. I don't think I have truly been able to achieve them, even with the success that I've had.
"Like I said, before I was even in the NFL I wanted to be legendary. Yeah the money is great, you can take care of your family, you can take care of kids one day that you'll possibly have. But my goal was always to be in the Hall of Fame, to win trophies, to be able to leave a legacy that will be remembered way past any money that you make."
Beckham hasn't played in any of the Giants' three preseason games this summer and isn't expected to see any snaps in their final preseason game against the New England Patriots tonight at MetLife Stadium. Beckham's season ended in only the Giants' fifth game a year ago after he fractured his ankle versus the Los Angeles Chargers.
The 2014 NFL Offensive Rookie of the Year, three-time Pro Bowler (2014, 2015, 2016) and two-time Second-team All Pro (2015, 2016) has been one of the league's most explosive and productive players when healthy. He is also a lightning rod for controversy as his over the top celebrations, verbal and physical confrontations with opponents and off the field actions—making him a favorite subject of social media platforms and paparazzi—have been a cause of concern for the franchise's leadership and gave pause to them investing a huge sum of money in him.
Yet, Beckham has remained relatively under the radar during the offseason, training camp and preseason and in his off the field activities, and he has displayed maturity in publicly addressing his contract status before agreeing to the new deal.