Amsterdam News Primary Endorsements, Part 2
EDITORIAL | 8/30/2018, midnight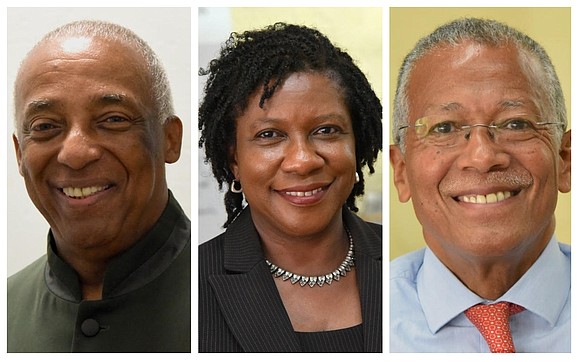 31st Senatorial District
Robert Jackson
Robert Jackson is tried and true. He has represented New York in so many ways for so long. He has spent his life as an educator, legislator, activist and progressive leader. Jackson has been at the forefront of progressive causes and has led the fight for decades. He was a leader in the City Council. He stood up for tenant's rights, student rights, affordable housing and small businesses. Now he wants to go to Albany and Albany needs him. The district needs him. District 31 is one of the most diverse districts in Manhattan and comprises Chelsea, Clinton, the Garment District, Hamilton Heights, Harlem, Inwood, Midtown Manhattan, Morningside Heights, the Upper West Side and Washington Heights. Currently, it is represented by Marisol Alcantara, a member of the IDC. Although she talks a great game of why she joined the IDC, we just don't buy it. And we know that Robert Jackson is a proven entity. He has served the community as a City Council member and did an excellent job, and we believe it is time to send him to Albany so that he can continue to work on behalf of all of us. That is why we endorse Robert Jackson for the 31st Senatorial District.
34th Senatorial District
Allesandra Biaggi
The name Allesandra Biaggi is probably one you have not heard until recently. She primarily worked behind the scenes. Whether it was in the office of the General Counsel of the New York Department of State working on storm recovery or as a director in the Clinton campaign, she has been making things happen. A fourth-generation resident in her district, she knows where she comes from and embraces all that her district has to offer. She is up against the ringleader of the IDC, Jeff Klein. Unlike Klein, Biaggi is about the community and real progressive values and reform: fully funding education, fully funding the safe act, passing universal health care, ending cash bail, passing property tax relief for low and middle-income families. And these changes are just a beginning. Biaggi wants to make a difference, and if elected we believe she will. That is why we endorse Allesandra Biaggi wholeheartedly for Senate in the 34th Senatorial District.
60th Assembly District
Charles Barron
When Charles Barron initially ran for Brooklyn's 60th Assembly District, we said that that Barron, who was known to be a firebrand, does not want to go to Albany to entertain. And that he wants to go to Albany to make a difference. And that is exactly what he has done. Barron has been on the forefront of social justice issues, education and health, and he has represented his community in Albany with the same zeal that he did in the City Council. No matter the office, he continues to make real change. He continues to be a voice for the unheard and makes sure the community is part of the conversation and part of the solution. Therefore, we endorse Charles Barron in the Democratic primary for the 60th Assembly District.
71st Assembly District
Alfred E. Taylor is a consummate professional. And he has served his community since he left the armed forces decades ago, first as a member of the late Assemblyman Denny Ferrell's staff and now as the current assemblyman. He brings to the district experience, knowledge, trust, hard work and great ideas. He has been a fighter against guns and violence, and he has been an unwavering foe of hate and bigotry. He is a man who cares for his community and makes a difference in it every day. It is for this reason and many more that we endorse Alfred E. Taylor in the Democratic primary.
Judge of the Civil Court Kings County
Ingrid Josef is receiving the endorsement of the Amsterdam News because of her sharp wit, genuine concern for her community and thoughtful temperament. It is so important that our communities have judges who believe in a holistic approach to problem-solving and community relations. Josef is this judge. Elected for a 12-year term, it is imperative we elect judges who want to build relationships and bridges to the communities they serve. It is for this reason we endorse Ingrid Josef for critical position.