Hemmings is psyched for soccer season
LOIS ELFMAN | 8/30/2018, midnight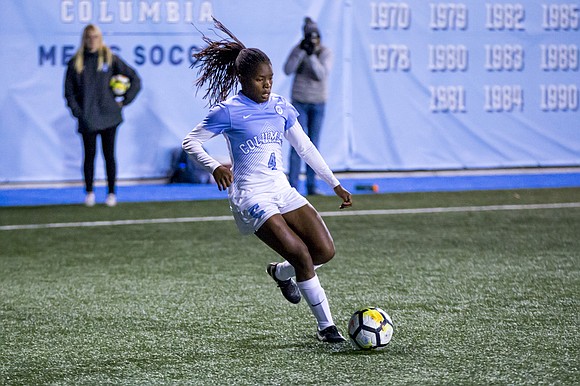 Classes don't start until next week, so for now senior forward Amaris Hemmings of Columbia University is focused on getting soccer season off to a great start. The Lions have already won one game and tied another, and are spending Labor Day weekend in Colorado taking on Colorado College and University of Denver.
Hemmings, who grew up in the Bronx and graduated from Riverdale Country School, knew she wanted to attend Columbia from a young age. She participated in Prep for Prep and the program's commencement day was at Columbia. The campus seemed like an idyllic place.
"It already felt like home when I was looking to play soccer there," said Hemmings. "I felt Columbia was the perfect balance between competition athletically and competition academically, which is something all my life I've strived to accomplish. I played club soccer while going to Riverdale, a rigorous school, so that balance felt natural to me. To continue it was the perfect next move."
She has excelled both on the field and in the classroom, earning All-Ivy Second Team honors in her sophomore and junior years. Now, in her senior year, the psychology major who is also pre-med knows she made the right choice.
"Being at Columbia has been like a kick into the next gear—understanding how I am as a student and as a player," said Hemmings. "That balance comes in learning how to manage your time and how to advocate for yourself. I've learned how to speak up for myself."
Playing Division I soccer has definitely fueled Hemmings' competitive nature. Drive and intensity are necessary to excel at Columbia, and soccer has reinforced her feeling of belonging.
After graduation, Hemmings plans to work for a year—hopefully in a research lab—while studying for the MCAT exam and then applying to medical school. She's certainly seen athletes deal with injury issues, which has been a factor for many former student-athletes who pursue careers in medicine. At present, her interest is cardiology.
Hemmings said she and her teammates are psyched for the Colorado trip. The soccer team plays most of its games in the Northeast, but there's always one big away trip each season.
"I love the trips that we take every year," she said. "We went to California last year. It's always a good time."