JAZZ NOTES: Ms. Sax, Onaje Gumbs, King of Stage, Persip fundraiser
Ron Scott | 8/30/2018, midnight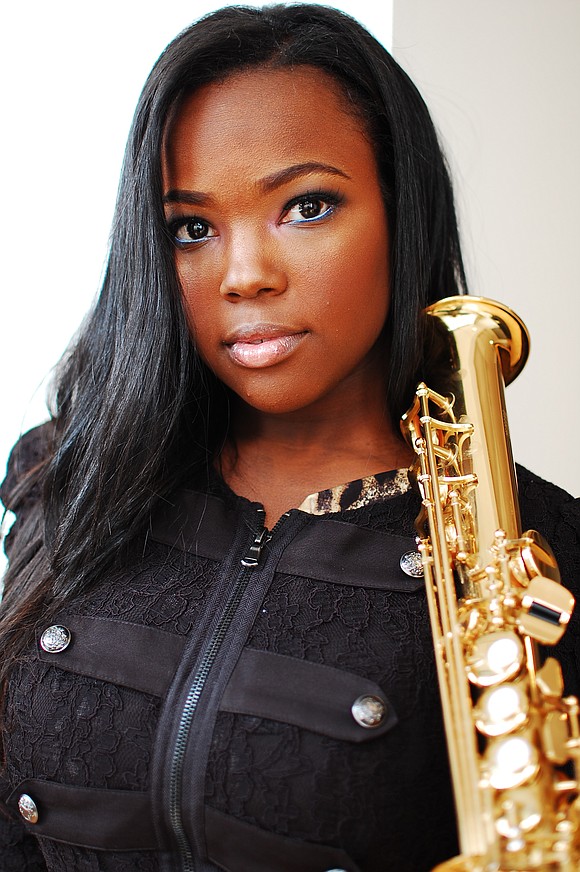 Camille Thurman was the second place winner of the Sarah Vaughan Vocal Competition, but the rising composer, tenor saxophonist and flutist assured me the brass instrument is her first love.
She swings in the tradition of a hard-bopper, a tenor sax that flourishes with rhythmic tones run the scale without hesitation to venture on like the flurried winds of an escalating thunderstorm. After the sax, she can sing sweet ballads such as "Detour Ahead" or "Sassy's Blues," an all-scat tune as she did on her last CD, "Inside The Moment: Live at the Rockwood Music Hall," her debut on Chesky Records.
Aug. 30 (tonight) the multitalented young musician will appear for one night only at Dizzy's Club Coca-Cola (60th Street and Broadway) for two shows at 7:30 p.m. and 9:30 p.m.
Tonight, she celebrates the release of her brand-new album, "Waiting for the Sunrise" (Chesky Records). Thurman noted, most of the tunes are from the CD, such as "Easy to Love," "September in the Rain," and "Tarde," with a few originals or standards mixed in.
"One of the tracks is called 'The World Is Waiting for the Sunrise,'" said Thurman, "The process of the sun rising is dynamic, powerful and beautiful. It's the critical point in time of nature transitioning from dusk to dawn. It's also a sign of hope and renewal."
Her well-established supporting cast will feature guitarist Romero Lubambo, trumpeter Eddie Henderson, bassist Gerald Cannon and drummer Darrell Green.
"I grew up listening to Sarah, Ella, Carmen and Shirley and wanted to create a project paying homage to them and revisiting the classics they covered," wrote Thurman in our text Q&A. "But in a unique way, a new generation continuing their legacy."
Tonight come and catch the light as her star shines a little brighter. For reservations visit the website https://www.jazz.org/dizzys/month/.
Onaje Allan Gumbs the pianist, composer and arranger received critical acclaim for his CDs "That Special Part of Me" (1988), "Dare to Dream" (1991) and "Remember Their Innocence" (Ejano 2006).
Sept. 1 the pianist, who plays everything from hard bop to soul with distinction will be a part of the Banana Puddin jazz concert series as they celebrate The Onaje Allan Gumbs Birthday Concert. The jazz throw down takes place at the Nuyorican Poets Cafe (236 E. Third St.) on Manhattan's Lower East Side at 9:30 p.m.
Gumbs contributed to the albums of Norman Connors: "Dark of Light," "Love from the Sun," "Saturday Night Special" and "You Are My Starship" (Gumbs arranged and played keyboards on the tune "Betcha By Golly Wow").
Gumbs suffered a stroke in 2010. Miraculously, he stayed in the hospital for only two days. Any visible signs of the stroke has since vanished. In February 2015, Gumbs suffered another medical setback. Although he was hospitalized for two weeks, he recovered and was able to return to work doing what he does best, composing, arranging and playing piano.
Sept. 6, Rome Neal's Banana Puddin' series continues at the Nuyorican Poets Café, presenting the screening of the must-see documentary, "King of Stage: The Woodie King Jr. Story" at 6 p.m.
This film offers viewers an inside look at the significance of a producer on and off Broadway. As one of America's master theater producers, Woodie King Jr. reflects on his now historical role as the founder and producing director of the New Federal Theatre and the National Black Touring Circuit in New York City.