Miguel Andujar continues to make his case for American League Rookie of the Year
JAIME C. HARRIS | 8/30/2018, midnight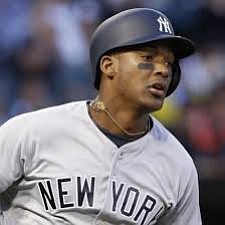 Gleyber Torres was supposed to be the Yankees celebrated rookie. Acquired from the Chicago Cubs in July 2016, along with three other players in exchange for reliever Aroldis Chapman, the talented second baseman from Venezuela was considered one of the best, if not the best, prospect in the minor leagues entering this season. And he lived up to the characterization early on.
After being promoted from Triple-A to the Bronx April 22, a month later, at 21, Torres became the youngest player ever in the American League to homer in four straight games. Meanwhile, fellow rookie, third baseman Miguel Andujar, was much less heralded. The 23-year-old from the Dominican Republic, who signed with the Yankees as an international free-agent in 2011, was making a persuasive, if not understated, impression on those who watched him on a daily basis.  
Although Torres was hailed as the frontrunner for American League Rookie of the Year in the opening months of this season, baseball is marathon, and Andujar has performed like an experienced distance runner, sustaining stamina and actually getting stronger as the season has reached the dog days of summer. Andujar hit .289 in April, .287 in May, tailed off to .264 in June, but then heated up, registering .330 in July and .327 in August as of last night (Wednesday).   
After hitting a two-run homer Tuesday night in the cleanup spot to help the Yankees overcome a four-run deficit and defeat the Chicago White Sox 5-4 to win their ninth game in their last 11 outings, Andujar was batting an even .300 with 22 home runs, 74 RBIs and a slugging percentage of .530, playing 121 games. In comparison, Torres, who went 1-2 Tuesday, hitting sixth in the lineup, had a respectable average of .271 with 20 homers, 58 RBIs and a slugging percentage of .343, playing in 94 games.  
"I know he can really hit," said Yankees manager Aaron Boone regarding Andujar to the YES Network after Tuesday's dramatic walk-off win on a home run by Neil Walker in the bottom of the ninth inning.
"Hits can be a little bit fickle and day to day, but I know the quality of the at-bat and the quality of the hitter," Boone elaborated. "Its shown up on a really consistent basis all season long and some more big ones today."
Andujar still has much room for improvement, especially in the field, where he has committed 14 errors. Nevertheless, both he and Torres have been instrumental in the Yankees staying within striking distance of the Boston Red Sox. They were 84-48 heading into last night's (Wednesday) series finale at home against the White Sox, six and a half games behind the American League East leading Red Sox, who were 91-42 before facing the Miami Marlins yesterday evening.
Yet, with one month remaining in the regular season, it is Andujar, who wasn't expected to be a high-impact player this season, who very well could become the Yankees 10th Rookie of the Year Award recipient.