Mixed feelings about a 'hero' with blood on his hands
Herb Boyd | 8/30/2018, midnight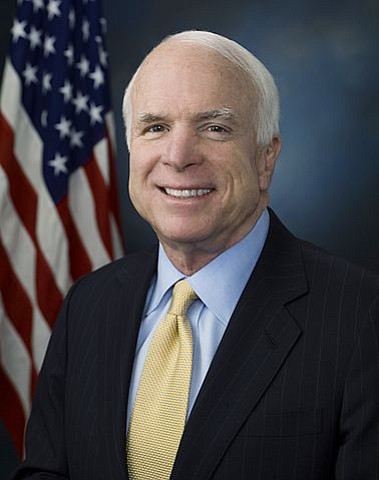 Praise and accolades are pouring in for the recently departed Sen. John McCain who died of brain cancer Saturday at age 81, many of them extolling him as an American patriot with flags across the country flying at half-mast—except at the White House. While he is being remembered as a prisoner of war, who was held for five years after he was rescued from his plane in Vietnam, we should not forget those 10 hours of flights over the country where his bombs fell indiscriminately, killing countless numbers of innocent Vietnamese.
There is no doubting his years as a war-monger, nor can Black Americans forget his opposition to recognition of a national holiday for Dr. King—for which he later apologized. And there was his resistance to affirmative action and a general indifference to the causes and concerns of Blacks in Arizona.
Even so, former President Barack Obama, who defeated McCain in the 2008 election, offered a heartfelt statement for the fallen senator. "John McCain and I were members of different generations, came from completely different backgrounds, and competed at the highest level of politics," Obama began.
But we shared, for all our differences, he continued, "a fidelity to something higher—the ideals for which generations of Americans and immigrants alike have fought, marched and sacrificed. We saw our political battles as a privilege, something noble, an opportunity to serve as stewards of those high ideals at home, and to advance them around the world. We saw this country as a place where anything is possible—and citizenship as our patriotic obligation to ensure it forever remains that way. Few of us have been tested the way John once was, or required to show the kind of courage that he did. But all of us can aspire to the courage to put the greater good above our own. At John's best, he showed us what that means. And for that, we are all in his debt. Michelle and I send our heartfelt condolences to Cindy and their family."
On his deathbed, McCain, who voted against the GOP's determination to repeal Obamacare and openly criticized Trump—who on more than one occasion said he was not a hero—chose Obama and George W. Bush to speak at his funeral.
It's important to remember as well that McCain stood up for Obama against hecklers who charged, like Trump, that Obama was not born in America.
McCain may have taken exception to Trump's description of Haiti and African nations as "shitholes," but there is no indication he was ever contrite about the deaths of millions of Vietnamese he personally killed, or his consent in the devastating war policies in Iraq and other countries.
He will be sent off with resounding encomiums and probably with a 21 gun salute, but there is still blood on his hands.