Remembering AUDELCO's Ms. Grace L. Jones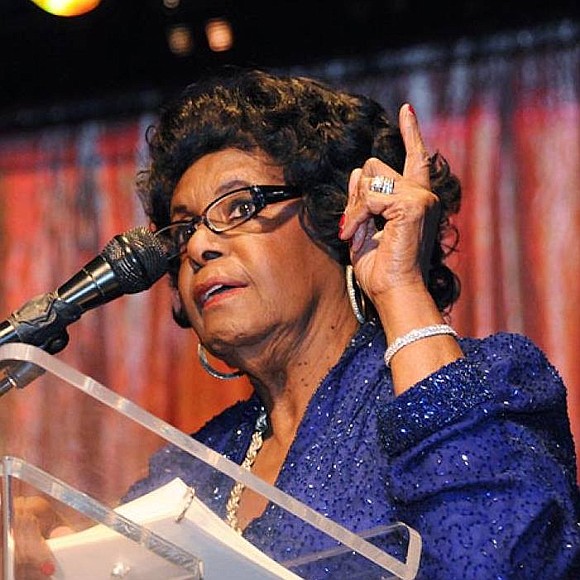 My heart was broken on the afternoon of Aug. 26, when I learned that a lovely lady who'd been like a mother to me had left this earth. Early Sunday morning at 3:46 a.m., Grace L. Jones—president of AUDELCO, an organization which recognizes excellence in Black theater—made her transition at age 90 due to heart issues. Ms. Grace was president of AUDELCO since 2005 and served in this role until her passing. In 2015 the National Black Theatre Festival honored her with a Living Legend Award.
I met Ms. Grace decades ago and she invited me to be on AUDELCO's board of directors and nominating committee. I was so honored by her invitation that I accepted, and was immediately struck by her love for theater and her dedication to supporting and recognizing the Black theater community. I called her Ms. Grace sometimes, and other times I called her Ma; she answered affectionately to both. If there was a problem I was facing in my personal life, I could call her on the phone vent to her. She would listen quietly, and then would calmly and sweetly give me her always wise and motherly advice. I told her that Bambi, her natural-born daughter, would simply have to share her with me. (She agreed and said Bambi didn't have a problem with that. Thank you, Bambi.) Ms. Grace accompanied me countless times to Broadway or off-Broadway performances, and we would wait around to say hello to the cast, and everyone would smile as they stepped out and saw Ms. Grace standing there. Everyone knew who she was and everyone loved and respected her. I'll never forget how beautifully dressed she was, always so elegant. And Ms. Grace was so much fun. I can't believe I won't hear her voice on the phone again, or see her smiling face. God, I miss her and always will.
Jackie Jefferies, a board member of AUDELCO shared, "I was honored when Ms. Grace asked me to become part of AUDELCO's board of directors. She was like a mother, a mentor, a friend. We spent so many years going to plays. And we spent so many late nights, filled with hard work, laughter and love coordinating the AUDELCO Awards. What I will miss most about Ms. Grace, our beloved president, is her love, commitment and dedication to the AUDELCO Awards and keeping Ms. Vivian Robinson's vision alive. I will always be grateful for her dedication. She was an awesome leader and did things by any means necessary—she was going to make the AUDELCO Awards happen. She wanted to make sure that people of color were honored for their craftsmanship. A. Curtis Farrow and I were just talking recently, about how, at her age, she would get on a bus or train to go to a show. She was a living example of how to live life to the fullest. She will be greatly missed. I want to send my blessings to her daughter Bambi and the family and A. Curtis Farrow and the Irving Street Repertory staff for their undying commitment to AUDELCO. To the theater community at large, thank you for all your love and support."