Rock steady Aretha—R-e-s-p-e-c-t, and Black Girls Rock!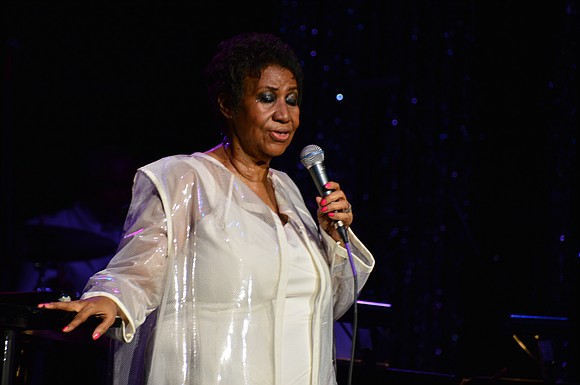 A few of us have had the pleasure to have seen it from its infancy. We've experienced the growing pains, and to see it level off into one of the premier annual celebratory events is the ultimate payoff. Ironically, the recent news cycle has aligned with the production schedule to make for a special show to be a very special show.
So here we have arrived, and for this year's edition we'll take liberty to remix the name, at the 2018 Black Girls Rock…Steady Awards. R-e-s-p-e-c-t to the Queen. When originally announced, one of the highlights of the show was the selection of Academy Award-nominated actress, Hall of Fame rapper, songstress and producer Queen Latifah as the host of the ceremony. The show, which was taped at the New Jersey Performing Arts Center in Newark, N.J. was a perfect backdrop for Newark native Queen Latifah.
"Queen Latifah is the epitome of Black excellence, hip-hop royalty and Black girl magic!," said Beverly Bond, the show's founder. "She has been a longtime supporter of Black Girls Rock! and has been honored at both our televised and pre-televised shows. I'm so thrilled to welcome her back to the Black Girls Rock! stage as host,"
Regarding the ceremony, Bond stated, "The Black Girls Rock! Awards continues to be instrumental in propelling Black girl pride across the Diaspora. Every year we are able to honor a cross section of dynamic women who represent a range of industries, genres and generations. This year's cohort of honorees is another incredible example of Black women's unparalleled contributions to the world. Black Girls Rock! on BET has become an annual culmination of Black girl preeminence and is a beautiful salute to our glory."
For 2018, the balance of excellence and star power were at an extreme level as this year's class would attest: Academy Award-nominated actress and Grammy Award-winning singer Mary J. Blige (Star Power Award); dancer/choreographer and Artistic Director Emerita of Alvin Ailey American Dance Theater Judith Jamison (Living Legend Award); international supermodel and philanthropist Naomi Campbell (Black Girl Magic Award); Emmy Award-winning writer, creator, actress and dedicated LGBTQ advocate Lena Waithe (Shot Caller Award); founder of the groundbreaking "Me Too" movement Tarana Burke (Community Change Agent Award); Marena Robinson Snowden (Girls Rock! Tech Award.)

Shining just as bright are the future trailblazers, known as the M.A.D (Making A Difference) Girls: Naomi Wadler, Amanda Gorman, Shenay Thompson and "Who Rocks Next" honoree Dorothy Jean Tillman.
Performers and presenters include Yolanda Adams, Tamia, H.E.R., Victory Boyd, Alvin Ailey Dance Theater's Jacqueline Green, Ava DuVernay, Ciara, Misty Copeland, Naturi Naughton, Storm Reid and Niatia "Lil Mama" Kirkland. 
All told it's safe to say that the assembled talent makes for Queen Laitifah the perfect homecoming. But for the Queen of Soul, Aretha Franklin, it might be the perfect homegoing. It's only right that perhaps the first great Aretha Franklin Tribute musically will air on this night. No spoilers though. You have to tune in Sunday, Sept. 9 at 8 p.m. on BET to get the gist. We'll circle back on that one.
Over and out. Holla next week. Til then, enjoy the nightlife.