Students protest Excelsior Scholarship results
SHA-NIA ALSTON | 8/30/2018, midnight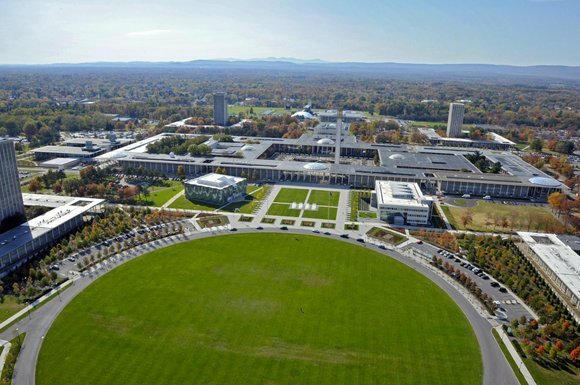 Many local CUNY students cannot afford to pay tuition because of the extensive requirements of the Excelsior Scholarship.
Last Thursday, Aug. 23, these very students, Democratic candidate for State Assembly Catalina Cruz, CUNY Rising Alliance, CUNY Dreamers and Young Progressives of America protested the results of the Excelsior Scholarship.
The Excelsior Scholarship was created to allow students to attend a SUNY or CUNY college tuition-free, with the help of other financial aid programs. A new study by the Center for an Urban Future found that 68 percent of the students who applied were rejected.
To be eligible, students meet a strenuous list of requirements. Some of which are the following:
• Students must be residents of New York State and have resided in New York State for 12 continuous months before the semester.
• They must be United States citizens or eligible non-citizens.
• Students must also be enrolled in at least 12 credits per term and complete at least 30 credits each year toward their degree programs.
Several students who attended the protest were part-time students, some even undocumented, making it harder for them to be able to benefit from the scholarship.
Cruz was there in support of the many students who face struggles like she once faced as a CUNY student. She wants to see them receive better educational opportunities.
"My hope is that every single student who wants to go to college gets that opportunity because it truly is it a chance for affordability," Cruz said. "It is a chance for our immigrants, our students of color, who need that chance, and it's an expensive chance that we can't afford to not invest in. We can't afford to not invest in our students."
Jamell Henderson, a three-time CUNY graduate, feels that students shouldn't have to pay the increasing tuition cost.
"The scholarship should be exactly like this: Any student who is a resident or lives in the state of New York up and until your baccalaureate degree will receive free education, point-blank, period." Henderson said.


Corrine Green, a senior at Brooklyn College, feels the aid of the scholarship will allow more students to be actively engaged in extracurricular programs, as well relieve the financial burden.  
"Students want to be on the sports team," Green said. They want to study abroad. They cannot do those activities because they're having to put food on the table, not only for themselves but sometimes for their family members."
With many students fighting for free tuition, if they do not see any changes, they will use their power in the upcoming election.