Talking SCHOP! Jersey! Stand Up!
KYSHA HARRIS | Food Editor, @SCHOPgirl | 8/30/2018, midnight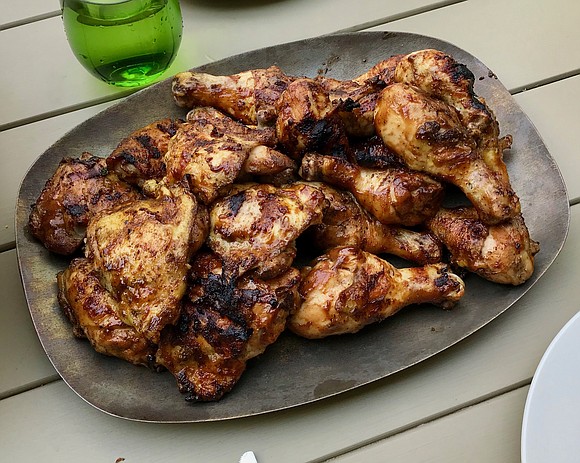 Is it really here? Labor Day? Already? Dang! Where does it go? I barely made it out of the city this summer. Too much work (a good thing), scheduling and making a long-term plan is not my strong suit. However, I am thankful for weekend hikes, bike rides, long walks and certainly the good summer food.
A couple of weekends back I was resigning myself to another weekend of tar beach, riding the iron horse (with jacked up weekend service) and Angry Orchard hard cider rosé (so good, get into it, #roséallday) when my sister-friend Nnenna and her husband Jonathon invited me down to Princeton. Without batting an eyelash, I said, "yes," and packed up me and my li'l man, Angus Bear, in 15 minutes.
An hour later we stopped in town to get a bite to eat. It would be one of my favorite late-night falafel spots on St. Marks, but in Princeton, called Mamoun's (@MamounsUSA, 20 Witherspoon St.). I was ravenous so I went in on their shawarma platter which was everything—roasted seasoned lamb, salad, pickled vegetables, warm pita. Washed it down with their delicately sweetened mint lemonade. Perfect!
After settling at the house and suiting Angus up with his life jacket and me, my bathing suit, we dove into the pool for a good swim. Before we knew it, dinner time was upon us and no one felt like cooking so we grabbed a bottle of red wine and went off for a grandma pie at Vito's in Pennington. Friday was a good day.
Saturday brought more swimming lessons for Angus, this time without the lifejacket! My pup is a quick learner. Jonathon also blessed us with the fluffiest pancakes and rich coffee. I was fortified to start prepping for our barbecue lunch.
I actually put myself to work the night before washing and seasoning the chicken, but day-of I made a Yukon gold and leek potato salad and a quick pickle no-mayo coleslaw. They both needed to hang out in the refrigerator for a couple of hours so all the ingredients can meld and get to know each other. A bonding moment, if you will.
Baby, I cared for that chicken on the grill like it was my last meal, browning it over direct heat, moving to indirect heat to cook through before slathering my favorite barbecue sauce from @LilliesQChicago on it. I had the whole table licking their fingers. Angus was certainly licking his paws under the table.
I will tell you about the farmers market, Jonathon's steak dinner, Margo Belle's homemade s'mores ice cream and the dynamite ramen we stopped for on the way home next week. Until then, I hope you enjoy your Labor Day Weekend. You certainly deserve it!
Happy eating and thanks for reading!
Kysha Harris is a food writer and editor, culinary producer, consultant and owner of SCHOP!, a personalized food service in NYC for more than 15 years. Follow her on Twitter and Instagram, @SCHOPgirl, on Facebook, /SCHOPnyc, and her blog, www.talkingSCHOP.wordpress.com. Questions? Comments? Requests? Feedback?