Unlike other athletes, Tiger Woods avoids political discourse
JAIME C. HARRIS | 8/30/2018, midnight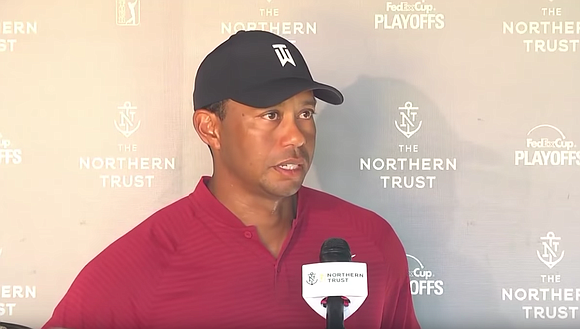 In a well-documented 1997 interview with writer Gary Smith from the weekly magazine Sports Illustrated, the late Earl Woods, who died of a heart attack in 2006, proclaimed that his then 21-year-old son, Tiger Woods, would someday be viewed in the same manner as transformational historical figures. He envisioned the young, prodigious golfer evolving into a man who would have an unprecedented social influence on the global masses.
"Tiger will do more than any other man in history to change the course of humanity," the elder Woods said to Smith. "He is the Chosen One. He'll have the power to impact nations. Not people. Nations"
Kultilda Woods, Tiger's mother, asserted her son's multiethnic makeup would be a galvanizing element of his ability to be a unifying personality. "Tiger has Thai, African, Chinese, American Indian and European blood," reasoned Kultilda Woods. "He can hold everyone together. He is the Universal Child."
Twenty-one years later, Tiger Woods has inarguably reshaped the sport golf. His economic impact has been tangible. Woods has been directly responsible for an increase in overall prize money at PGA events, expanded sponsorships and driven record-breaking television ratings. He has also reframed how golfers prime, as strength training with weights and the employment of sports science and sports psychologists have become common among his peers since he incorporated those methods.  
However, Earl Woods' comparisons of his son to Gandhi, Buddha and Nelson Mandela have fallen woefully short of manifesting. Conversely, the 14-time major tournament champion and 79-time PGA Tour winner, the second most ever behind the 82 achieved by Sam Snead, has been conspicuously silent and evasive in addressing social and political issues.
In a time when many prominent sports figures have spoken out on social injustices, the current divisive political climate under Donald Trump's tenure as president that has fractured the United States, and a growing fissure in this country's relations with long-standing foreign allies, Woods has avoided publicly engaging in discourse.
Last Sunday, after finishing tied for 40th at the Northern Trust in Paramus, N.J., carding a 4-under-par, Woods, who shares a cordial association with Trump, offered banal responses when asked about the 45th U.S. president.  
"Well, I've known Donald for a number of years,"' Woods said at the Ridgewood Country Club. "We've played golf together. We've had dinner together. I've known him pre-presidency and obviously during his presidency."
Responding to a question regarding Trump's often harsh and discordant policies, Woods refrained from providing a profound viewpoint. "Well, he's the president of the United States," he said. "You have to respect the office. No matter who is in the office, you may like, dislike personality or the politics, but we all must respect the office."'
His opinion runs counter to that of athletes such as LeBron James, who has been unabashedly critical of Trump and his policies. In the debut episode of his show "The Shop" on HBO Tuesday night, James explained why he is compelled to utilize his expansive platform to articulate his position on various social and political issues.
"I want the satisfaction," said James. "Not for myself, but for everybody else. I was raised off of Snoop [Dogg] and [Tupac] and [JAY-Z] and Biggie, and now I get an opportunity to be the inspiration around what all of these kids are looking up to? And for me to just sit back and not say [expletive] when a lot of my peers didn't say [expletive]? It didn't feel right. At the end of the day, when I decided I was going to start speaking up and not giving a [expletive] about the backlash or if it affects me, my whole mindset was it's not about me."  
In contrast, Woods dispassionately answered "No" when asked if he would express his thoughts on race relations as well as the wider conversations permeating this nation under Trump.   
"I just finished 72 holes and am really hungry," he said. It was a retort that is the antithesis of what Gandhi, Buddha and Mandela stood for and what James espouses.