U.S. Open begins with fanfare and a stunning upset of Simone Halep
BESS OLIVER | 8/30/2018, midnight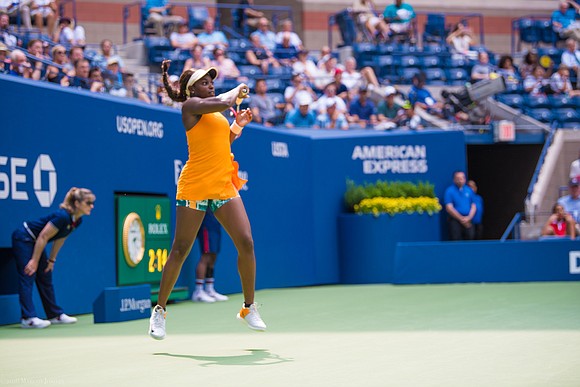 This year marks the 50th anniversary of the U.S. Open. The 2018 Opening Night ceremony Monday was headlined by country singer Kelly Clarkson and a celebration of Virginia Wade's 1968 woman's singles title victory over the great Billie Jean King.
The Open also began with a stunning upset as the world's No.1 ranked player, Simona Halep of Romania. The 26-year-old Halep fell 6-2, 6-4 to Kaia Kanepi of Estonia at the new Louis Armstrong Stadium at the USTA Billie Jean King Tennis Center in Flushing Meadows-Corona, Queens.  
Halep's defeat marks the second straight year she has lost in the first round of the U.S. Open. It is also the first time a No. 1 seed has lost in the first round of the Open in the professional era.
"I didn't find the balance today," Helap said. "I couldn't play better, so that's it." She started pretty well and pretty strong, but those first games were tough.
She continued, "Actually, I expected her to play like that without fear and hitting the balls really strong. I cannot say much about this match, just that I didn't really feel the ball. But also, she played really strong and pushed me back, so it was tough."
The 33-year-old Halep, currently ranked No.44, concluded, "She has been playing really well in [the] U.S. lately, so I thought I just have to be aggressive and try to stay calm. I remembered how I played her last time [in a three-setter four years ago]. I was just trying to do the same."
Venus and Serena Williams both advanced to the second round. Victories in their second-round matches will lead them to facing each other in the third round.
At 38 years old, Venus Williams is playing in her 20th career U.S. Open. Her first appearance was in 1997. She has never lost a first-round match at the Open. In a 2-hour, 55-minute match in extremely hot conditions, Williams defeated 33-year-old Svetlana Kuznetsova of Russia 6-3, 5-7,
6-3.   
Sloane Stephens, the 2017 Open champion, defeated Evgeniya Rodina of Russia in straight sets, 6-1,7-5. Afterward, Stevens was asked her thoughts on playing on a new [Louis Armstrong] court.
"It was just loud," she said. "There was a lot going on, like I said, between the airplanes and the subway behind the court, the concessions being in the lower bowl, and people walking in the games at, like, 2-all, 3-all. There's just a lot going on."
She added, "Yes, it was fun to play the first day on a brand-new stadium court. But there was a lot happening."
As for as Serena Williams, after missing the 2017 U.S. Open because of the birth of her daughter, the six-time tournament champion was welcomed back to headline the evening match. She returned in style, wearing a casual black tutu, and the Open's No. 17 seed ousted Magna Linette of Poland in 6-4, 6-0, ending the match with an ace. No.14 seeded Madison Keys advanced to the second round Tuesday by defeating Pauline Parmentier 6-4, 6-4. Keys reached last year's final, losing to Stephens.