WABC-TV and Univision host a Back to School town hall
SHA-NIA ALSTON | 8/30/2018, midnight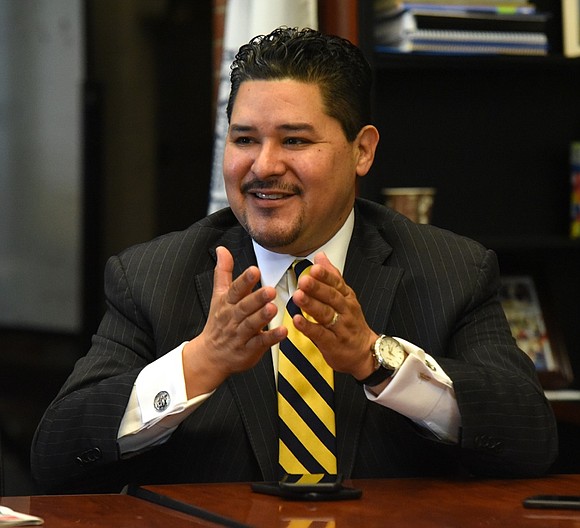 When New York City students return to school Sept. 5, thanks to a local town hall hosted Tuesday, Aug. 21 at P.S. 128, the Audubon School, parents will have more knowledge of what to expect this school year.
Moderators for the panel were local Channel 7 news reporter Joe Torres, alongside Univision reporter Mariela Salgado. Concerns that were addressed included bullying, pre-K enrollment, safety and uniforms. Students' and parents' questions were answered in both English and Spanish.
Panelists included Josiris Ureña pre-K outreach team DOE; Yolanda Torres, executive superintendent Division of Family and Community Engagement; Vasthi Acosta, principal of the Amber Charter School; Rita Rodriguez, director of the Immigration Project at Advocates for Children; and Shirley Acevedo-Buontempo, founder and executive Director of Latino U College Access.
New York City Schools Chancellor Richard A. Carranza was the keynote speaker for the town hall. He highlighted the launch of 43 bilingual programs to be introduced into school curriculums.
He advised parents to actively engage in their children's education by meeting the people who educate them. Carranza also encouraged parents to take advantage of the many programs available for their children.
"This is the most exciting time of the year, and I am going to ask you as parents, if you haven't already done so, as you start the school year off, there are many back to school events, make sure you are able to get the information, you can do that by our new easily accessible website," Carranza said.
Outside of the town hall forum, several booths were set up, with representatives from various organizations educating parents on the programs students have access to.
Charisma Rodriguez, a representative of the Department of Education Pre-K for All Initiative, spent the evening assisting parents in the early education process.
"We're here to show families that it is important to get their children into educational and social appropriate environments just to give them a head start with being in love with learning," Rodriguez said.
Marissa Muñoz, senior director of Education Policy for the Hispanic Federation, wanted parents to see the appeal of early engagement for long-term goals.
"The event [was] really to inform parents, with children from pre-K to high school to better engage in their child's academic career, to make sure they're on the pathway to college or postsecondary readiness in general, so when they graduate they can get a good job," Muñoz said.
More than 400 backpacks filled with school supplies were given out to get students ready to start the school year. For more information on the 2018-2019 school year, visit www.schools.nyc.gov/Calendar/.