'Warriors of Liberty City' keeps it real on Starz docu-series
LAPACAZO SANDOVAL | 8/30/2018, midnight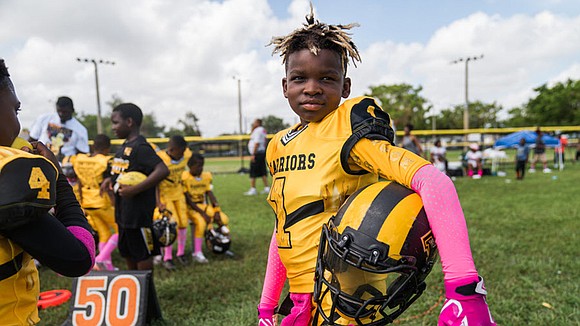 It took three failed attempts to connect with the busy man behind the Starz docu-series "Warriors of Liberty City," but it turned out to be well worth the wait.
Luke Campbell, aka Uncle Luke, is many things. For some he's a rap-legend and for others too young to bear witness to the birth of rap, Campbell is "Uncle Luke," that energetic man behind Liberty City Optimist Club and the subject of the new Starz docu-series "Warriors of Liberty City" airing Sept.16 on the network. 
The music of his band 2 Live Crew disturbed the 1 percent of the United States of America so much that it led to a precedent-setting obscenity case at the U.S. Supreme Court in the 1990s. The result was placing parental warning labels on albums and CDs, all because Uncle Luke had something to say. In short, he's a serious man. 
In an unusual turn of events that make up his fascinating life, he started the Liberty City Optimist Club in the Liberty City section of Miami, and the youth, families and coaches who are part of this organization are what the "Warriors of Liberty City" is all about.
In a nutshell, the series follows a season with the Liberty City Warriors, a youth football program founded by Campbell. There is so much more in this series, and beyond football, the focus is on the Liberty City Warriors Optimist Club, a youth organization that sponsors sports teams, dance, cheerleading, tutoring and academic support. Life, like football, is a contact sport, and for the children and families of Liberty City, being a warrior holds the key to both. That is Campbell's vision. 
Here is an edited interview culled from a one-hour phone call with Campbell, aka Uncle Luke, the architect behind Liberty City Optimist Club and the subject in Starz's "Warriors of Liberty City."
AmNews: Hello, Uncle Luke. I love your southern accent, or rather your Miami accent. I grew up between Miami and Philadelphia, so I know the city, somewhat. I reached back to my people who still live in Miami. I asked them if anything has really changed inside Liberty City and they collectively responded with "same ole'-same ole'." Is this true?
Campbell: Well … a lot has changed. I mean [before] the riots [1981], it was a really vibrant city with a lot of African-American owned businesses. After the riots, a lot of those businesses were burnt down and a lot of that development has not been restored. but the pride of the city, along with the people [of Liberty City] is still there. 
You know as far changing, I see changes with this kid —[Commissioner] Keon Hardemon. He came out of our program. He is now the commissioner and the chairman of the City of Miami commission, and with him, these last four years, there has been a lot that has changed. In the Overtown area, he built new affordable housing for people. In our area, where my youth program is, in Liberty City, he builds a $6.5 million gymnasium in the park. They had never had a gymnasium.  He revitalized the pool and build a football stadium … and more.
Is it changing now? Yes. Was it changing before? No. 
AmNews: Luke, I have chills listening to that story!
Campbell: Do you have chills? Listen, hey, let me tell you, that's why this documentary, "Warriors of Liberty City," is so important. Because there are so many stories like that. That's why this program is so important. 
AmNews: Luke, you are such a savvy businessman and I am a storyteller. I can see so many stories coming out of your club. The stories of Liberty City. Do you see it?
Campbell: Exactly. Exactly. Exactly. Yes, I see it. That's the thing. You gotta ride in there and see the energy of the people. Our Black neighborhoods are being rebuilt. When I wrote my book "The Book of Luke: My Fight for Truth, Justice and Liberty City," it's my life story. As I walk down the street and all, it can be a movie. We have a movie deal with Lion's Gate, which is part of STARZ and it's getting done.
Starz's "Warriors of Liberty City" airing Sept. 16.